Del Rey Elementary School
Del Rey, CA
2022 Read Live School of the Year Runner-Up
Submitted by Traci Tucker, Special Education Teacher/Intervention Teacher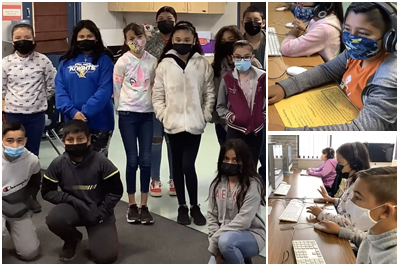 Del Rey Elementary School has been using Read Naturally programs since 2012. This school currently uses Read Live with English Language Learners, students with IEPs, and students who need reading intervention. They were able to successfully integrate Read Live into a distance-learning curriculum during the pandemic and continued to see impressive growth.
In her nomination, Traci wrote:
"I have been in the position of Special Education Teacher/Intervention teacher since 2012. We began using Read Naturally the first year and added Read Live as soon as we could. Initially we used Read Naturally/Read Live for before school intervention and transitioned into using it with all students with a focus on English Language Learners, students on an IEP and students progressing through the tiers of intervention. When Covid hit, and students were at home, Read Live became a foundation for working with students.

Personally, I have seen so much growth in my students. It wasn't massive growth in one year, it was growth over time. To give you a snapshot, I had two students on IEPs who were not reading at all. This year, after 7 years of working with them with Read Naturally/Read Live an important part of their intervention, one girl is now 7th in her class in reading. The boy is now reading above grade level on his DIBELS assessments. Both sets of parents are so thankful for their children's growth.

To put it succinctly, everyone should have access to this program. I highly recommend it."