Cottonwood Elementary School
Aguanga, CA
2021 Read Live School of the Year Runner-Up
Submitted by Lynelle Juarez, Specialized Academic Instructor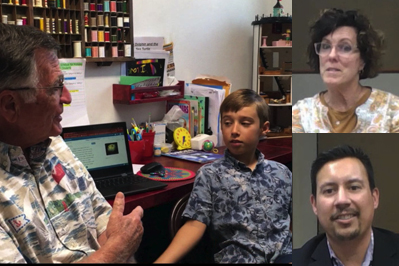 Cottonwood Elementary School has been using Read Live since 2013. They use the program for both Tier 2 and 3 intervention, as well as support for their English language learners. With school closed due to the pandemic, they were able to continue working with students remotely with Read Live. All students using the program made more than one year's growth in their reading.
In her nomination, Lynelle wrote:
"Cottonwood Elementary School has been using Read Live for over four years with great success. There have been so many great opportunities for students to continue making growth in fluency, comprehension, decoding, and building vocabulary during these challenging times.
"Last year when our schools shut down, we continued to meet with students online utilizing the newly added distance features. How rewarding this was for students to continue to make reading growth during a pandemic in a virtual environment! Our school turned this crazy pandemic into an opportunity to continue to use Read Live to support our students who struggle with reading. Oh, and Word Warm-ups was definitely one of the positive features.
"During these unprecedented times, our students who are receiving Tier 2 and Tier 3 interventions, as well as our English language learners have made more than a year's growth in their reading Lexile levels. The program helps students build their fluency to be able to facilitate comprehension and build vocabulary. Cottonwood utilizes Read Live with fidelity and progress monitoring to achieve greater gains in improved reading and academic achievement.
"This year, our principal, Mr. Stearns, and our school are committed to a school-wide literacy program to improve reading skills, and Read Live is a vital piece to our program. Cottonwood teachers and Mr. Stearns are focused on the improvement of struggling readers to meet the high standards of academic achievement by using Read Live. With a strong commitment to this program and implementation with fidelity, students have the opportunity to become more confident readers regardless of their struggle.
"Read Live allows students the opportunity to practice reading every day to reach their potential. The ultimate goal for our students using Read Live is not to be struggling readers, but to be good readers and comprehend what they are reading. We look forward to continuing to use Read Live in the upcoming school year as we strive to close the gaps."