Quick Phonics Screener provides...
A tool to quickly measure the phonics skills of individual students.
Three forms of the assessment for progress monitoring in fall, winter, and spring.
Convenient recordkeeping forms for RTI documentation.
Student scenario examples to help interpret results.
Teachers use Quick Phonics Screener to...
Easily assess students, kindergarten through adult.
Select the subtests needed to confirm knowledge of specific phonics skill.
Track changes in student performance.
Efficiently communicate student results with colleagues and parents.
Utilize assessment data to make instructional decisions.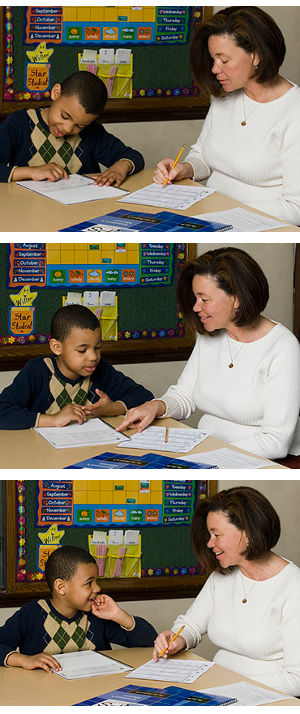 Quick Phonics Screener (QPS) is an informal, individually administered assessment that quickly and accurately diagnoses a student's strengths and instructional needs in phonics and decoding skills. The assessment items are arranged in order from least to most difficult, beginning with naming letters and pronouncing letter sounds through reading four-syllable words. Alternate assessment forms enable teachers to monitor students' progress at three different times across the school year. This criterion-referenced assessment is untimed and can be used with kindergarten through adult learners.
The teacher selects an appropriate skill set in which to begin assessing the student. The student names or pronounces the phonics elements or words listed in the examiner's manual, and the teacher writes the student's responses and comments on the scoring sheet. The student continues through subsequent skill levels until unable to correctly identify at least half of the items.
Using guidelines from the examiner's manual, the teacher interprets the results to plan appropriate instruction for the student. After administering subsequent assessments, the teacher can also compare results to evaluate student progress.
Quick Phonics Screener (QPS) includes an assessment overview, the examiner's manual, and the student assessment booklet.
Assessment overview
This one-page overview is a handy guide for use before or during the administration of the phonics screening test.
Examiner's manual includes:
Purpose and rationale.
Instructions for administering, scoring, and using the results.
Reproducible masters of examiner scoring sheets.
A pronunciation guide with the correct pronunciation of assessment items.
A bibliography of related resources.
Student assessment booklet
This durable, spiral-bound book has three alternate forms of the student assessment for progress monitoring in the fall, winter, and spring of the school year.
Free online resource
A summary score sheet with spaces to record a student's scores from up to three different assessments to help easily analyze each student's scores across a school year.

QPS Summary Score Sheet
| Description | Item Number | Item Price, $ | Quantity |
| --- | --- | --- | --- |
| QPS Single-Teacher License | QPS02 | $75.00 | |
What Customers Say About Quick Phonics Screener
"I have been very pleased with Read Naturally products. I just started using the assessment pieces — Benchmark [Assessor] and the Quick Phonics Screener. They have been very helpful along with being quick."
— Sarah, Reading Specialist, Stoneham, MA
"We love the Quick Phonics Screener (QPS) and the Read Naturally products."
— Sandie, Principal, Oak Park, MI
Customer Reviews
Ellen Karnowski
Jan 22, 2016
4
I really liked the Quick Phonic Screener, and it does clearly identify what type of decoding skill students need support with. What happens next or how the difficulties are remedied are not completely clear, although after a call in to ask this question, I did receive assistance with this issue.
Cathy Gage
Jul 17, 2014
5
I use the QPS as a diagnostic. In fact, I'm moving schools and have to leave my copy behind so came to the website to get the order form for my new school. I don't want to be without it K-8.
Karen at Read Naturally
Jan 27, 2016
Jaci, thanks for your question about QPS. The second edition added three additional skill sets at the end (11, 12, & 13) to assess two-, three-, and four-syllable words. The earlier skill sets are almost the same as the first edition. In a few places, the words were replaced with better test items for the assessment.
The other differences in the second edition include more explicit directions in how to administer and score the assessment and how to interpret the results. The second edition describes a number of case study scenarios for interpreting the results and making instructional decisions.
Jaci
Jan 26, 2016
Thank you for sharing! I teach K-2 and was wondering if you felt the new QPS addressed more than the previous QPS and which you prefer