Upson-Lee Elementary School
Thomaston, GA
2021 Read Live School of the Year Runner-Up
Submitted by Debbie Busbee, Title I Teacher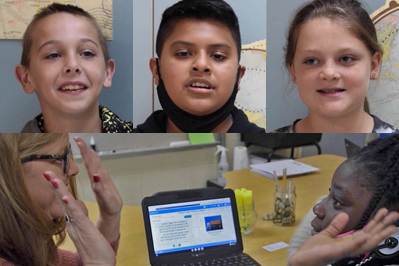 Upson-Lee Elementary started using Read Live in 2017. They use the program as a Tier 2 intervention in grades 3–5. The teachers and staff loved each time a new feature was released this year, especially the ability for students to record themselves. Students using the program saw huge improvements in their fluency, comprehension and self-confidence. They are loving Read Live!
In her nomination, Debbie wrote:
"Upson-Lee Elementary has used Read Live as an intervention for EIP/RTI students for the past 3 1/2 years. This is my second year using the program and I can't say enough positive things about it! Read Naturally has added several new features this year which has really made it easier, especially while teaching during a pandemic.
"This past year ULE only used Read Live for students receiving Tier 2 interventions. It is the only program we currently use for Tier 2. I had approximately 75 students in the program which consisted of both virtual and in school students. Students range from third to fifth grade. Students absolutely love the program.
"Throughout the year when new features were added the students got even more excited (especially when they didn't have to wait for me to pass them because they could record their story). I personally think the record portion is an excellent tool because students need to be able to hear themselves read so they can make corrections. Often times after they recorded it, they would tell me where they made an error! Students also like the one-minute reader section because with this portion they can continue to work without the assistance of the teacher.
"It's hard to pick just one thing about Read Live that makes it stand out above other programs, but for me I would sum it up with the three reasons listed below:
"Student's self-esteem is built when they realize they can read and when they see their hot time score increase from their cold time scores! Each student has an individual goal and when that goal is reached it builds their confidence!
"Students' reading comprehension skills are heightened! Most students individual goal is to increase their wpm. However, I still have the comprehension/quiz section turned on so students are getting practice in both wpm and comprehension skills at the same time.
"Lastly, the most exciting thing as an educator is to see students' making progress and return to Tier 1 interventions! Out of the 75 students I've had this year, approximately 20 have returned to Tier 1! (that's almost 1/3 of the students!)
"The other students have all made progress and many are close to reading on grade level. I love seeing the light in the student's eyes when they see they are making progress. Their self-confidence and self-esteem really do get a boost as they work in Read Live! Our school uses MAP for benchmark testing and the students using Read Live also showed progress on their benchmark scores.
"I continue to look forward to watching my students grow and become more natural readers! I could go on and on about the program, but the best testimonies are from students. Please take a moment and watch my video as my students will tell you why Read Live is a great reading tool!"