Crescent Elementary School
Anaheim, CA
2021 Read Live School of the Year
Submitted by Lauren Caughren, Special Education Teacher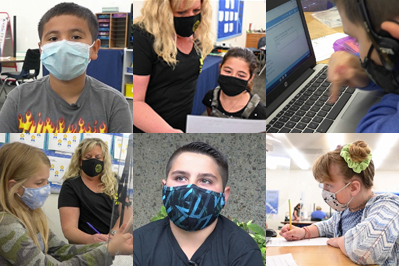 Crescent Elementary School is part of the Orange Unified School District. This was their first year using Read Live after upgrading from Read Naturally Masters Edition. Read Live was used with students in grades 2–6. It allowed students attending in-person to connect with their peers learning remotely. Students using the program experienced growth in their reading levels and personal confidence.
In her nomination, Lauren wrote:
"Crescent Elementary School in Anaheim Hills, California is a model of exemplary use of the Read Naturally Live program in its fidelity to using the program to support students in both general education, as well as in special education.
"Education was hit with many challenges in 2020 and Crescent was no exception to this. When schools closed, we had been in a long standing and comfortable routine with the paper version of Read Naturally for small-group reading support. Upon a hybrid return to campus this fall, students and staff at Crescent were able to make a seamless transition to learning digitally by using Read Naturally Live along with custom teacher-created paper and digital supports. Through both distance learning and in person instruction, students at Crescent in grades 2–6 have shown tremendous improvement this year in the areas of reading comprehension, reading fluency, vocabulary and written expression.
"At a time where many students across the country have experienced significant learning loss and reading regression due to the coronavirus pandemic, students and specialists at Crescent used Read Live to not only recoup skills, but saw substantial reading growth. Many of our students on IEPs saw at least a year's worth of reading growth in their annual reviews, greatly due to the use of this program. While students committed to using the program 3–5 days a week with their parents and teachers, the staff worked together to build upon an already established program in creative ways to take their students' daily experience and overall progress to the next level.
"From additional opportunities to draw, specialized paper to meet fine motor needs, and additional assignments to create digital posters about their stories, Crescent students remained continuously engaged and committed this year to the Read Naturally Live program. Students attending school in person and online at our school were able to connect with each other by reading the same stories from a distance as online learners participated in reading groups in real time with their in-person peers.
"Our staff loved using Read Live this year as we found that switching to the digital version provided helpful, real-time data that allowed us to advance students' levels and make adjustments to goals in a more timely manner. We were able to use multiple staff members as a team to support a higher level of differentiation during our ELA groups leading to accelerated reading and writing development for each student.
"Perhaps the most important impact that Read Live has made at our school is the added confidence that we have seen in each student using the program. From the conception of using Read Live to now, we have seen students go from teary eyed beginning readers to now excited, expressive and confident individuals. This program is truly the puzzle piece that each type of our unique learners needed to grow. "