Instruction to meet all the Phonological Awareness Common Core State Standards.
A systematic intervention perfect for pre- or developing readers.
Carefully designed instruction based on research.
59 ready-made lessons in convenient, spiral-bound lesson guides, easily taught by a teacher or teacher assistant in 15-20 minutes a day.
Pre- and post-tests for recording individual progress.
Student lessons displayed on one iPad or Macintosh computer, increasing opportunities for peer modeling.
Letters are not taught or used, allowing this program to be used with any reading curriculum.
Students...
Recognize and count words in a spoken sentence or phrase.
Recognize and produce rhyming words.
Count, pronounce, blend, and segment syllables in spoken words.
Blend and segment onsets and rimes of single-syllable spoken words.
Isolate and pronounce the initial, medial vowel, and final sounds (phonemes) in three-phoneme words.
Add or substitute individual sounds (phonemes) in simple, one-syllable words to make new words.
Take turns using interactive widgets on the teacher's iPad in a small group setting.
Focus on the sounds of language--there is no instruction in letters.
Funēmics® is a systematic phonemic awareness program that teaches students the six outcomes of phonemic awareness—word recognition, syllable recognition, rhyme recognition and production, and phoneme recognition and manipulation—meeting all of the Phonological Awareness Common Core State Standards. Each lesson builds on skills taught in previous lessons, adding just a few elements at a time. With minimal preparation, teachers or aides present scripted instruction from convenient, spiral-bound lesson guides to small groups of students, and use an interactive ebook with brightly illustrated pages and interactive widgets as a display for students. Funēmics is entirely pre-grapheme.

Research basis for Funēmics
Developmental Teaching Process
In each lesson, the teacher presents featured tasks that build upon one another to reach the specific outcome on the phonemic awareness continuum.
1. Introduction
Often the lessons use a simple rhyme or song to introduce the tasks. If so, the teacher says or sings the rhyme or song, and then helps the students learn it by repeating it or by singing along.
2. Modeling
If the skill is introduced in the lesson, or is still in the early stages of review, the teacher models the tasks before asking students to perform.
3. Practice
Students practice doing the tasks as a group. The practice may include verbal responses, large or small motor activity, or the use of an interactive widget.
4. Repetition
Students practice doing the tasks as a group. The practice may include verbal responses, large or small motor activity, or taking turns using an interactive widget.
5. Correction
Unless otherwise noted, if a student responds incorrectly, the teacher models the appropriate response. After the student repeats the modeled response, the teacher states the directive again, giving the student another chance to respond. Whether the student responds correctly or incorrectly, the teacher continues by saying, "That was really difficult. Let's do it together now," and then repeats the directive as the entire group responds in unison.
6. Review
Each lesson ends with a formative assessment to evaluate students' understandings of the material covered in the lesson. For more comprehensive or challenging assessments, the teacher may review all of the material on the formative assessment page with each student individually or use unfamiliar words to review the skills.
7. Extra Practice
As a follow up to the lesson, the teacher provides extra practice throughout the day as suggested in the Lesson Overview.
iPad is a trademark of Apple, Inc., registered in the U.S. and other countries.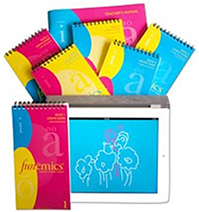 Funēmics® has six levels, each with a small, spiral-bound lesson guide and a corresponding interactive display book on a Macintosh computer or iPad. (The iPad is the only tablet that is capable of reading these books.) All levels have the same basic design with strategic differences.
Book 1 Word Segmentation with 10 lessons.
Book 2 Rhyme Recognition with 10 lessons.
Book 3 Syllables with 8 lessons.
Book 4 Rhyme Production with 10 lessons
Book 5 Phoneme Recognition with 10 lessons.
Book 6 Phoneme Recognition and Manipulation with 12 lessons.

​ Funēmics scope and sequence chart
Funēmics is sold in complete sets of six lesson guides and six display eBooks. Each set includes six lesson guides, six downloadable display books, and a teacher's manual.
Six lesson guides include:
Scripts for lessons of increasing difficulty.
Teacher tips for teaching each lesson.
Correction guides.
Multiple activities to support each lesson task.
Practice, repetition, and review of each task.
Teacher modeling that is eliminated over time.
Formative assessments for each lesson.
Six downloadable display books include:
Colorful images for each page of a lesson.
Interactive activities.
Teacher's Manual includes:
Research and rationale for phonemic awareness.
Scope and sequence.
Correlation to common assessments.
Description of teacher responsibilities.
Support for introducing the program.
Pretests and Post-tests, Books 1–6
iPad Requirements for the Display Books:
| | |
| --- | --- |
| Operating System | |
| Apple iBooks | |
| Disk Space | |
Macintosh Requirements for the Display Books:
When you use the widgets from a desktop computer, an initial message pops up that states the interactivity may not work with a mouse or touchpad. Ignore this warning.
| | |
| --- | --- |
| Operating System | |
| Apple iBooks | |
| Disk Space | |
Includes six spiral-bound lesson guides, six downloadable display books for iPad, and a Teacher's Manual.
| Description | Item Number | Item Price, $ | Quantity |
| --- | --- | --- | --- |
| Funēmics Single-Teacher Set | FUN01 | $185.00 | |
From the Review of the Funēmics Program by The National Parenting Center
"Testers were immediately impressed with the comprehensive nature of the system."


Read the full review
Customer Reviews
Kassandra Babeckos
Mar 8, 2016
5
As a kindergarten specialist, I have been struggling to find a program to support our lowest learners. Although I wish the graphics were a little more enticing, using familiar poems and nursery rhymes make learning fun and easy. The program has built in movement and really works with all learning styles!
This is a must have to support your lowest kindergartners who need structured support in phonemic awareness!
Ruth DesMarais
May 19, 2014
5
I used Funemics in my Title 1 program with Kindergarten students. The phonemic awareness activities were amazing and engaging for my struggling students. I appreciated the daily lessons that provided good modeling, repetition, and practice for my students. The nursery rhymes were engaging and the illustrations were simple and fun. Funemics is a program that is easy to implement with any curriculum to add to the phonemic awareness activities.
Sarah
Apr 11, 2014
5
My son and I were part of an early pilot group for this curriculum. We are a homeschooling family and this curriculum fit perfectly for us! It was engaging and a good foundation for reading for my son. There was a script that was helpful for me and minimal preparation needed! We loved it!
Michelle M. Brenner
Apr 3, 2014
5
Our Title I program is in the fourth year of using the Funemics program. We were fortunate that we were able to pilot the program and provide feedback to the authors and editors. For quite some time we had been looking for a high quality phonemic awareness curriculum to use with our struggling kindergarten students. The six different Funemics books provided us with exactly what was needed to teach our students these important skills. The pre and post tests were helpful in targeting our instruction and insuring that our students mastered the concepts that we were teaching. The daily lessons provided modeling, practice, repetition and assessment, centered around fun and familiar nursery rhymes. It was extremely easy to implement and our students looked forward to the lessons.