Cambridge School
Pennington, NJ
2022 Read Live School of the Year
Submitted by Meghan Peters, Special Education Administrator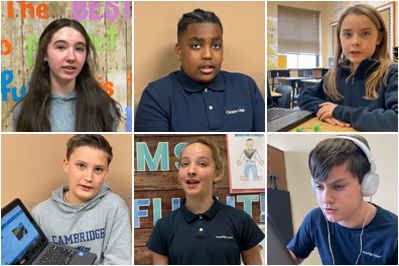 Cambridge School has been using Read Naturally since 2001. As a school that specializes in helping students with learning differences, Cambridge has experienced great success using Read Naturally Live to support students' reading growth in grades K-8.
In her nomination, Meghan wrote:
"At Cambridge School, we specialize in helping students with language-based learning differences, such as dyslexia, thrive. We provide positive educational opportunities tailored to each child's personal strengths and learning styles to help students overcome their challenges, while supporting and encouraging the pursuits in which they excel. As a research-based program, Read Naturally Live is an important tool we utilize to develop students' reading fluency and to support their comprehension and vocabulary growth.

Cambridge School students in grades K-8 utilize Read Naturally Live 3-4 times per week, for 30-45 minutes per session. Since the program meets children where they are at, students enjoy working with it, and their confidence grows as they progress through stories and levels. Read Naturally Live data is an important piece of our fluency and comprehension progress monitoring. The real time data provided by the platform gives students, teachers, and parents helpful diagnostic information on student growth and areas of challenge. In general, most of our students make notable fluency gains through their work in the program, with many completing all 8 levels by the end of 8th grade.
If you walk into a Cambridge School classroom during a Read Naturally Live session, you will see focused, engaged students reading both silently and aloud. You will see teachers working one-on-one with students checking their fluency progress and reviewing important comprehension skills and relevant vocabulary. You will see excited students, for whom decoding is a challenge, becoming more motivated, confident readers."
Since our school's founding in 2001, Read Naturally Live has been an effective, individualized, evidence-based tool we utilize to support our students' reading growth."