Reading Fluency Progress Monitor provides...
Multiple field-tested reading fluency passages equivalent in difficulty at each level.
A tool for frequent assessment required by RTI.
Reproducible forms to record and graph student performance over time.
Teachers use Reading Fluency Progress Monitor to...
Assess performance in reading frequently throughout the school year.
Make timely instructional decisions.
Determine whether instruction is effective.
Document the progress of individual students.
Communicate student progress with others.
Assess at grade level or instructional level.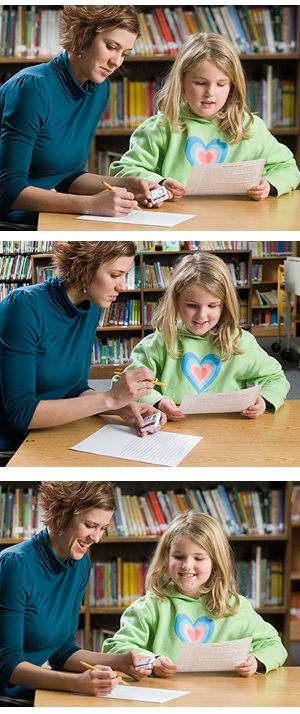 Reading Fluency Progress Monitor (RFPM) is an efficient, valid, and reliable assessment to measure a student's progress in reading. Teachers monitor progress regularly throughout the year (monthly, biweekly, weekly) by assessing, recording, and analyzing the oral reading fluency of their students. This data helps them make timely instructional decisions, determine if instruction and/or interventions need adjustment, and document and communicate student progress.
Periodically, the teacher listens to a student read a leveled passage at his/her instructional level for one minute and determines the student's score. The teacher records and graphs the student's words-correct-per-minute (wcpm) score. After assessing a student three times and recording the scores, the teacher can calculate and graph the mean of the student's scores. Each subsequent words-correct-per-minute (wcpm) score can be used to calculate the mean of the three most recent scores. Teachers can use the graph of the student's scores to track student progress and make educational decisions.​
Reading Fluency Progress Monitor (RFPM) has eight levels (1–8) of assessment passages. Each level has 30 rigorously field-tested, valid and reliable reading fluency passages representative of general curriculum.
Reading Fluency Progress Monitor (RFPM) is sold by level. The teacher selects the appropriate level for each student.
Each level has an examiner's manual with complete instructions and reproducible assessment passages.
EXAMINER'S MANUAL
Assessment passages include:
30 reproducible passages for student use.
30 reproducible passages with line-by-line word counts for teacher use.
Graphs and record sheets for manual record-keeping.
Instructions include:
Detailed instructions for administering and scoring the assessment.
Directions for calculating, recording, and graphing mean scores.
Suggestions for analyzing and using results.
Normative data to help teachers make educational decisions based on the results.
| Description | Item Number | Item Price, $ | Quantity |
| --- | --- | --- | --- |
| RFPM Grade 1 Passages | RFPM01 | $49.00 | |
| RFPM Grade 2 Passages | RFPM02 | $49.00 | |
| RFPM Grade 3 Passages | RFPM03 | $49.00 | |
| RFPM Grade 4 Passages | RFPM04 | $49.00 | |
| RFPM Grade 5 Passages | RFPM05 | $49.00 | |
| RFPM Grade 6 Passages | RFPM06 | $49.00 | |
| RFPM Grade 7 Passages | RFPM07 | $49.00 | |
| RFPM Grade 8 Passages | RFPM08 | $49.00 | |

Technical Adequacy of the Progress Monitoring Passages