Upson-Lee Elementary School
Thomaston, GA
2023 Read Live School of the Year
Submitted by Debbie Busbee, Reading/Literacy/Language Arts Teacher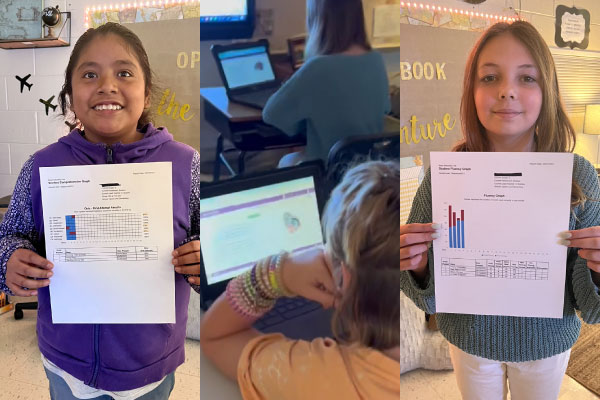 Upson Lee Elementary School has used Read Live for the past 5 years. Students have demonstrated impressive growth working in Word Warm-ups Live, Read Naturally Live, and One Minute Reader Live four days a week. According to nominating teacher Debbie Busbee, Read Live has helped the students meet their goals on MAP Benchmark assessments, and "Students who have been in the bottom 20th percentile of their class are now performing in the upper part of their grade level." Congratulations, Upson Lee Elementary!
In her nomination, Debbie wrote:
"Upson Lee Elementary School has used Read Live for 5 years. The first 2 years it was used as an intervention for students receiving services in EIP, Tier II and Tier III. Three years ago, we began using it as just a Tier II intervention. Since I've taught the program for the past 4 years (even during COVID) I feel as though this year I've really learned how to teach it with fidelity. Each year I become stronger and more knowledgeable in how to use each feature.
Third, fourth and fifth grade students come to my class during their DI reading block. They are with me 4 days a week for 50 minutes each day. After students take the placement test, they are placed on a level that's "just right" for them. As they are ready to conduct a cold time or ready to pass a story, they can log into Word Warm-ups or One-Minute Reader until I'm able to meet with them. This is a great resource as students are utilizing every minute of class time.
Students get very excited when they are ready to pass a story. They love looking at the stars they've earned, and they really like it when they've met their goal because they can get something from the treasure chest! Dojo points are also earned when students met their goal. One of the favorite ways to use points is to turn them in for lunch with the teacher.
This has been my favorite year of implementing Read Live. Approximately 70% of the students using the program met their goal on the Spring MAP benchmark assessment. The average GE growth seems to be +2 years within a year of being placed in the program. Some students are in the program for a few months while others may be in for a few years. ESOL students have shown the most progress in the program. Comprehension seems to be their weakness but within a year or two most are on grade level and performing within the upper half of their peers. Students enjoy sharing their charts and certificates with family members and other teachers within the school.
I enjoy the one-on-one time with students as they read the cold time in each story. One of my favorite moments is when they listen to their recording of the story with me. (I love when they find their mistakes!) We discuss their fluency and the comprehension questions. If they miss a question I have them go back to the story and show me what the correct answer should be. This helps students learn how to use context clues and it increases their reading skills for inferencing, main idea, vocabulary, and other skills needed to increase their comprehension.
Anytime I have a question all I do is contact Claire with Read Naturally. She always replies quickly and gives me advice on what I can do to improve student achievement.
I believe ULES should be Read Naturally's School of the Year because we have shown so much progress this year! The program helps our students by teaching them confidence, increasing their fluency rate and it has helped them improve their comprehension skills. Students who have been in the bottom 20th percentile of their class are now performing in the upper part of their grade level. The program is taught with fidelity and helps our students learn to have a love for reading through many types of stories. Thank you Read Naturally for providing an excellent resource/program for our students!"