Highland Park Elementary School
Austin, TX
2023 Read Live School of the Year Runner-Up
Submitted by Emily King, Dyslexia Interventionist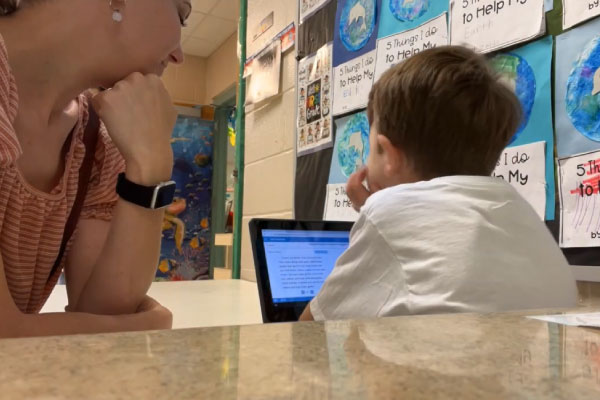 Highland Park Elementary School has been using Read Naturally programs since 2004. The first through fifth graders using the program have made incredible strides, both in school and at home. Some students have improved up to three grade levels! According to Emily, "Many parents have shared that their child, who used to have to be forced to read, now reads willingly and with pleasure." Keep up the great work, Highland Park Elementary!
In her nomination, Emily wrote:
"Highland Park is an Elementary School that's part of the Austin Independent School District (AISD). At Highland Park, we are committed to student growth and learning, embracing opportunities that show results. Through the use of Read Live, we are able to combine two powerful assets – the Read Naturally program and a cadre of over 60 trained volunteers – to create reading success for our students. The way the program is supported and has grown within our community is what truly sets us apart.
Highland Park began using Read Naturally in 2004 – over 18 years ago. In the year after the pandemic, the school transitioned to Read Naturally Live. This year about 90 Highland Park students have had the opportunity to participate in the program. Currently, the program's composition includes 30% first graders, 25% second graders, 24% third graders, 13% fourth graders, and 8% fifth graders. Every child in our program sits down two to three times per week with a volunteer that has been assigned to them to go through the curriculum.
We run at-a-glance reports occasionally to see if students need to progress to a higher word count or level and also share individual reports with teachers and caregivers at the end of each semester. Over the course of a school year, students improve their reading levels by an average of one grade level – and some improve up to three grade levels.
Importantly, these aren't results we see only when using the Read Naturally program; they are echoed in teacher's experiences and in parents' feedback. Many parents have shared that their child, who used to have to be forced to read, now reads willingly and with pleasure. Read Live offers us the chance to take students' fears of struggle or embarrassment with reading and replace them with fun and positive experiences. The children enjoy choosing which story they would like to read next, small prizes each month, and a book to take home to celebrate the end of each semester.
Read Live offers engaging stories and clear markers of success that help children gain confidence in their reading ability. Our volunteers take the structure of Read Live and infuse it with positivity, supporting them in their practice reads, and cheering students on as they perform their pass read with confidence. All of these factors – the quality of the stories, the metrics of improvement, the feelings of pride, and the relationship with their volunteers result in both quantitative and qualitative improvement.
We know that Read Live works; students that complete the program are often reading above grade level by the end of their time at Highland Park."