Students...
Build fluency and motivation by reading short, nonfiction passages.
Increase reading accuracy and expression with audio support.
Strengthen comprehension and vocabulary.
Develop automaticity in decoding (Phonics levels).
Work independently most of the time.
Experience success and an improved attitude toward reading.
Read Naturally Live provides...
An interactive reading intervention, often used for RTI or MTSS implementations.
Options to easily differentiate the program to meet individual needs.
Motivating informational texts for reluctant readers, from beginning readers to adults.
Extensive, computer-generated reports on student progress.
Opportunities for teachers to work with students one-on-one.
Three curriculum series (Sequenced, Phonics, Idioms) with a total of 23 levels.
Nonfiction reading opportunities as required by state standards.
Spanish translations for stories in early Sequenced levels.
​Read Naturally Live is an online reading program that accelerates reading achievement by combining the research-proven strategies of teacher modeling, repeated reading, and progress monitoring. A student works at his or her own pace in an appropriate level of material. Text and audio guide the student through the steps. The student masters a story by reading along with audio and then practicing the story until he or she can read it fluently and with comprehension. The program automatically tracks student progress.

Research basis for the Read Naturally Strategy

​Read Naturally Live Steps
Select a Story
The student clicks on the story he or she wants to read. Choosing the story deepens the student's investment in the material.
Key Words
In the Sequenced and Idioms series, the student reads the key words and their definitions while listening to an audio recording. The key words provide definitions that are important to understanding the story. In the Phonics series, the student listens to a phonics lesson and reads words that have the featured phonics patterns.
Prediction
The student uses the title, picture, and key words to write a prediction of what he or she thinks the story is about. The prediction prepares the student's mind for reading the story.
Cold Timing
The teacher may time the student for one minute as he or she reads the story, or the student may complete this step independently. The student clicks unknown words while reading, and then clicks the last word read during the timing. Read Naturally Live subtracts the unknown words from the total number of words attempted to obtain a cold-timing score and displays it on a graph. This step establishes a baseline for progress monitoring, the component of the Read Naturally Strategy that motivates the student to improve.
Read Along
The student reads along quietly with a recording of the story, typically three times. This step is the teacher-modeling component of the Read Naturally Strategy, which helps the student learn new words and master others as well as learn proper pronunciation, expression, and phrasing.
Practice
The student practices reading the story without audio support three to ten times until able to read it accurately, with expression, and at the goal rate. This step is the repeated-reading component of the Read Naturally Strategy, which helps the student improve fluency, master difficult words, and understand the story.
Quiz
The student answers questions about the story. Responding to the text holds the student accountable for meaning, develops the ability to answer many types of questions, and provides teachers with information about how well the student comprehends the story.
Retell/Word List
In the Sequenced and Idioms series, the student retells or summarizes the story to improve comprehension.
In the Phonics series, the student works on decoding skills by practicing the word list until able to read it accurately at a predetermined rate. The Phonic series also includes a spelling step to give students practice encoding words from the word list.
​Pass
The student reads the story for the teacher to show that he or she can read it at the goal rate, with appropriate expression, and with three or fewer errors. The teacher corrects the comprehension questions and the retelling of the story (if applicable) and reviews the results with the student.

In the Phonics series, the student also reads the word list to show that he or she can read it with three or fewer errors at the goal rate. ​A graph shows how much the student's fluency has improved since the cold timing.

​ Additional graphs show results for the comprehension questions, the retelling, and the word lists (if applicable).
Read Naturally Live is a component of Read Live, a subscription program that is licensed per student. Teachers can reassign licenses if students leave the program. Read Live subscriptions include access to all 23 levels of three series. All series have the same basic design with strategic differences.
Sequenced series is the basic series and has 13 levels (1.0 – 8.0) with 24 stories per level.
Phonics series adds phonics lessons and activities to the basic design and has 6 levels (0.8 – 2.7) with 24 stories per level.
Phonics elements taught in the Phonics series
Idioms series teaches common American idioms as students work on reading skills. Idioms has 4 levels (3.0 – 4.5) with 12 stories per level.
Featured idioms
The teacher assigns the appropriate series and level for each student. The student works through the level in the student program, and the teacher manages the student's progress in the teacher program.
STUDENT PROGRAM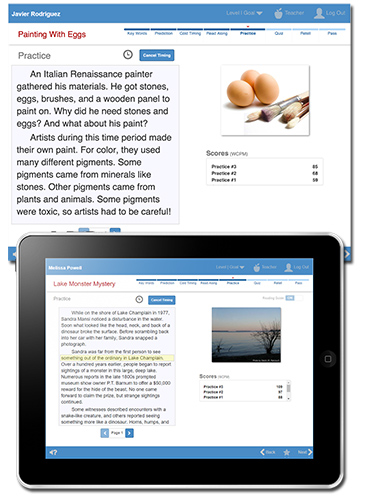 High-interest, leveled, nonfiction stories include:
Key words, clickable vocabulary words, and comprehension activities.
Spanish translation of each story in Sequenced levels 1.0 – 4.5.
Extensive audio support includes:
Audio directions for each step of the process.
Three appropriately paced recordings that model correct pronunciation and expression.
Pronunciation of words in stories when clicked.
Audio definitions of key words, or, in the Phonics series, an audio phonics lesson.
Clickable vocabulary words with audio-supported, student-friendly definitions.
Spanish translation of each story in Sequenced levels 1.0 – 4.5.
Auditory signals that indicate if a student's responses to multiple choice items are correct or incorrect.
Structured instructional process includes:
Automated steps built around teacher modeling, repeated reading, and progress monitoring.
A wait-time vocabulary-building activity.
Computerized scoring and extensive reports include:
Automated correction of multiple-choice questions.
Calculation of fluency, phonics, and comprehension scores.
Graphs and reports showing student performance.
TEACHER PROGRAM

Set up of account for district, building, classroom, staff, and/or students include:
Enrolling staff and students.
Licensing students.
Support for single sign-on tools from ClassLink and Google Classroom.
Management of student programs includes:
Placement of each student in a level and series with an appropriate reading-rate goal.
Easily customized options for individual students and extensive student reports.
Printable stories, reports, parent letters, awards, and completion certificates.
Online documentation includes:
Step-by-step instructions for working in the software and "how to" section on setting up Read Naturally Live.
A lesson plan for introducing the program to students.
Training videos that explain how to set up the software and work with students in the program.
ONLINE RESOURCES AND TECH SUPPORT
To help you implement Read Live successfully, Read Naturally provides free web resources and tech support.


Learn more about Read Naturally's online resources and tech support
Read Naturally Live is an integrated component of the Read Live platform.
Read Naturally Live is an integrated component of the Read Live platform. All Read Live licenses enable full access to the Read Naturally Live curriculum as well as access to the Word Warm-ups Live curriculum, One Minute Reader Live curriculum, and Read Naturally Live-Español curriculum.
Customer Reviews
Robin Deaton
Nov 12, 2015
5
My students that are enrolled enjoy reading the stories. I like that it has vocabulary, fluency practice, and comprehension to go along with each story.
Carol Wolfenden
Nov 6, 2015
5
Because I've done READ LIVE for several years, I didn't think I needed the webinar. I was wrong. Thank you for reminding me about a few things I had learned in my initial training but had gone by the wayside. We'll be making a few changes to the way we deliver this program. I think we'll be more efficient and more effective, and our students will reap those rewards. Thanks again.
paul
Nov 4, 2015
4
Read Naturally Live has several improvements over SE. It is handy that I can access student's settings from their account so that while I am working with them I can adjust their goal quickly. The look of Read Nat. Live has been updated and just seems a little sharper. Simple access to the multiple choice questions right while I am working with a student is efficient and access to the suggested correct answer when reviewing answers to open ended questions is quite nice. It might be better if those answers were written in complete sentences since that is how I ask my students to answer the questions.

I still struggle with the user interface. Adding students, making groups and other tasks sometimes takes more effort and clicking around to find the correct screen than I like.

Joel, at Read Naturally ground zero has been a big help. Competent people to help me makes any problems that I face much less of a negative.
Deborah Romano
Oct 28, 2015
1
No one understood what I was asking, nor were they able to help.
Bob Lay, Tech Support Manager at Read Naturally
Oct 29, 2015
Deborah, I apologize for the unsatisfactory experience with our technical support team. We want everyone to have success using Read Naturally Live, and we work hard to provide the best service possible. Please let us know if there is more we can do to assist you.
Eleanor G. Smith, CCC-SLP Summerville Speech Therapy
Oct 13, 2015
5
Read Live is an excellent program for increasing reading fluency. My kids ( adolescents in middle and high school) also enjoy the program and it helps increase accuracy, comprehension, and critical thinking skills. I also like the vocabulary drills and how the program emphasizes vocabulary in context. Progress is consistent and is a successful experience for many learners who have only experienced failure in the past. I schedule my kids 2x per day for my therapy services with one session on Read Live and one session for their other language therapy work. It is programming that high risk adolescents in foster care and in the juvenile justice system are receptive to using. I highly recommend the Read Live program for at risk adolescents who have a language-literacy impairment.
Deana Allison
Oct 12, 2015
5
I teach self-contained Jr. High students. Many of my students come to me in 7th grade only reading on a first or second grade level. They struggle with many issues that distract them. The stories in the Read Naturally program combined with the use of the I-Pads has proven to be a useful tool increasing their level each year at least 2 grade levels. The parents love the usefulness of being able to practice at home with the student. The students love to read the stories.
Donna Woicekowski
Oct 12, 2015
5
Some of my moderate to severe special needs middle school students use Read Naturally Live. The students are motivated by the nonfiction reading topics and the fact that they are working on reading skills on a computer or iPad. I had one student ask if he could use the Read Live program during his free choice time! That is certainly an indicator of how well students like the program. I see gains in students' reading fluency and comprehension skills while using the program. We love Read Naturally Live!
Jennifer Holtzmann
Oct 12, 2015
5
I think this program is a great tier 2 or 3 intervention for students who struggle with fluency and who need their comprehension monitored. It's been a good way for me to see more than one student at a time who may be at different reading levels.
Jill Payne
Oct 8, 2015
5
I LOVE this program! It is great for all ages and I love that students can work at their own pace. The students can instantly see their progress by looking at their cold and hot timings.
Jill Payne
Oct 1, 2015
4
We love your program! We are using it as an intervention for struggling readers. My students (mostly middle school) enjoy working with the program and love the variation of the different stories.
Shannon Rhem
Sep 30, 2015
5
I used Read Naturally as an intervention problem for my lowest students. I found the program to be extremely engaging for my students. The stories peaked many of my students interest and they could hardly wait each day to get to work! The students were also motivated to improve each reading! I also found the format of typing comprehension responses very similar to our state standardized test. The benefits to the Read Naturally program are endless!
Janet Hancock
Sep 25, 2015
5
This program is wonderful it covers comprehension, vocabulary, and fluency,
Sheri Schroeder
Aug 19, 2015
5
Thanks for everything, Ben! Read Live has made such a difference in the lives of my middle school students who have struggled with reading. We see very good increases in all areas of reading including decoding, reading rate, prosody and comprehension. Test taking skills are supported as well. Best of all the students are really engaged and reading is no longer a dreaded chore while using Read Live. I appreciate your support over the last four years!

Kind regards,

Sheri Schroeder
Michael
Aug 13, 2015
5
This is an excellent resource for teachers. Students find the stories interesting. Students have improved their reading fluency and reading comprehension skills.
Phyllis Small
Jul 16, 2015
5
I was an Instructional Assistant at Monterey Road Elementary School for the 2014-2015 school year. I was responsible for helping groups of children who were below standard in improving their reading skills. Our school used the Read Naturally Live Program. We had a classroom converted to a computer lab and it was great! I saw so many children improve their reading ability that it excited me for my own two boys. I think this program is excellent in that it helps them to improve on their reading speed, comprehension and knowledge of words. I hope that this program can also be used for kids who don't necessarily have reading issues but to help them improve on comprehension or just pick up their speed and reading fluency. I'd like to see this program continue to be a regular part of their curriculum.
will newlands
Jun 14, 2015
5
Marina
May 1, 2015
5
We use Read Live as a fluency intervention piece for our literacy program. Students enjoy the interesting passages. The Live program allows students to easily get right to work and provides activities for students to do while waiting for teacher help. Read Live is a perfect fit for us!
Lynda Niffenegger
Apr 13, 2015
5
This program is so easy to get up and running. It is highly motivating with the student choice options, the graphics and the timings. I notice the students really taking ownership of their learning and goals. The Read Along and Read Alone features provide valuable independent practice. I am able to continue with all of my other reading instruction without adding something new that is timely to learn and implement. It also provides good feedback on a weekly basis on what individual comprehension questions need to be addressed. I am very pleased with it.
Kelly Arbor
Apr 11, 2015
5
Read Naturally is perfect for struggling readers. The material is high interest, so high interest in fact that students don't always want to move to the next level because they want to read the stories on the level they just graduated from! The online program makes it easy for students to do the comprehension questions and fix those they've missed. The vocabulary exercise while waiting for the teacher is also excellent. The most important predictor of whether a student will become a successful reader is the time he spends reading, and this program gives ample time and practice to reading, and the students feel rewarded as they improve their fluency. I highly recommend this program!
Christine Nerbonne
Apr 8, 2015
5
We have used Read Naturally for years and the students love the stories. We just started using Read Live last spring and it has all of the qualities that we love from Read Naturally but it is so much easier.