Read Naturally Live provides...
An interactive reading intervention, often used for RTI or MTSS implementations.
Options to easily differentiate the program to meet individual needs.
Motivating informational texts for reluctant readers, from beginning readers to adults.
Extensive, computer-generated reports on student progress.
Opportunities for teachers to work with students one-on-one.
Three curriculum series (Sequenced, Phonics, Idioms) with a total of 23 levels.
Nonfiction reading opportunities as required by state standards.
Spanish translations for stories in early Sequenced levels.
Students...
Build fluency and motivation by reading short, nonfiction passages.
Increase reading accuracy and expression with audio support.
Strengthen comprehension and vocabulary.
Develop automaticity in decoding (Phonics levels).
Work independently most of the time.
Experience success and an improved attitude toward reading.
​Read Naturally Live is an online reading program that accelerates reading achievement by combining the research-proven strategies of teacher modeling, repeated reading, and progress monitoring. A student works at his or her own pace in an appropriate level of material. Text and audio guide the student through the steps. The student masters a story by reading along with audio and then practicing the story until he or she can read it fluently and with comprehension. The program automatically tracks student progress.

Research basis for the Read Naturally Strategy

​Read Naturally Live Steps
Select a Story
The student clicks on the story he or she wants to read. Choosing the story deepens the student's investment in the material.
Key Words
In the Sequenced and Idioms series, the student reads the key words and their definitions while listening to an audio recording. The key words provide definitions that are important to understanding the story. In the Phonics series, the student listens to a phonics lesson and reads words that have the featured phonics patterns.
Prediction
The student uses the title, picture, and key words to write a prediction of what he or she thinks the story is about. The prediction prepares the student's mind for reading the story.
Cold Timing
The teacher may time the student for one minute as he or she reads the story, or the student may complete this step independently. The student clicks unknown words while reading, and then clicks the last word read during the timing. Read Naturally Live subtracts the unknown words from the total number of words attempted to obtain a cold-timing score and displays it on a graph. This step establishes a baseline for progress monitoring, the component of the Read Naturally Strategy that motivates the student to improve.
Read Along
The student reads along quietly with a recording of the story, typically three times. This step is the teacher-modeling component of the Read Naturally Strategy, which helps the student learn new words and master others as well as learn proper pronunciation, expression, and phrasing.
Practice
The student practices reading the story without audio support three to ten times until able to read it accurately, with expression, and at the goal rate. This step is the repeated-reading component of the Read Naturally Strategy, which helps the student improve fluency, master difficult words, and understand the story.
Quiz
The student answers questions about the story. Responding to the text holds the student accountable for meaning, develops the ability to answer many types of questions, and provides teachers with information about how well the student comprehends the story.
Retell/Word List
In the Sequenced and Idioms series, the student retells or summarizes the story to improve comprehension.
In the Phonics series, the student works on decoding skills by practicing the word list until able to read it accurately at a predetermined rate.
​Pass
The student reads the story for the teacher to show that he or she can read it at the goal rate, with appropriate expression, and with three or fewer errors. The teacher corrects the comprehension questions and the retelling of the story (if applicable) and reviews the results with the student.

In the Phonics series, the student also reads the word list to show that he or she can read it with three or fewer errors at the goal rate. ​A graph shows how much the student's fluency has improved since the cold timing.

​ Additional graphs show results for the comprehension questions, the retelling, and the word lists (if applicable).
Read Naturally Live subscriptions include access to all 23 levels of three series. All series have the same basic design with strategic differences.
Sequenced series is the basic series and has 13 levels (1.0 – 8.0) with 24 stories per level.
Phonics series adds phonics lessons and activities to the basic design and has 6 levels (0.8 – 2.7) with 24 stories per level.
Idioms series teaches common American idioms as students work on reading skills. Idioms has 4 levels (3.0 – 4.5) with 12 stories per level.
Read Naturally Live is a subscription program, licensed per student. Teachers can reassign licenses if students leave the program.
The teacher assigns the appropriate series and level for each student. The student works through the level in the student program, and the teacher manages the student's progress in the teacher program.
STUDENT PROGRAM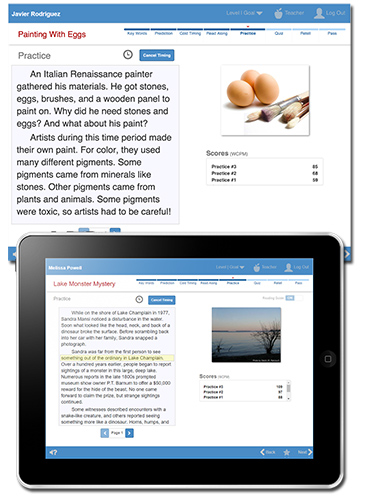 High-interest, leveled, nonfiction stories include:
Key words, clickable vocabulary words, and comprehension activities.
Spanish translation of each story in Sequenced levels 1.0 – 4.5.
Extensive audio support includes:
Audio directions for each step of the process.
Three appropriately paced recordings that model correct pronunciation and expression.
Pronunciation of words in stories when clicked.
Audio definitions of key words, or, in the Phonics series, an audio phonics lesson.
Clickable vocabulary words with audio-supported, student-friendly definitions.
Spanish translation of each story in Sequenced levels 1.0 – 4.5.
Auditory signals that indicate if a student's responses to multiple choice items are correct or incorrect.
Structured instructional process includes:
Automated steps built around teacher modeling, repeated reading, and progress monitoring.
A wait-time vocabulary-building activity.
Computerized scoring and extensive reports include:
Automated correction of multiple-choice questions.
Calculation of fluency, phonics, and comprehension scores.
Graphs and reports showing student performance.
TEACHER PROGRAM

Set up of account for district, building, classroom, staff, and/or students include:
Enrolling staff and students.
Licensing students.
Support for Google login using G Suite for Education.
Management of student programs includes:
Placement of each student in a level and series with an appropriate reading-rate goal.
Easily customized options for individual students and extensive student reports.
Printable stories, reports, parent letters, awards, and completion certificates.
Online Documentation includes:
Step-by-step instructions for working in the software and "how to" section on setting up Read Naturally Live.
A lesson plan for introducing the program to students.
Training videos that explain how to set up the software and work with students in the program.
ONLINE RESOURCES AND TECH SUPPORT
Free web resources include:
Read Live Smart Start Guide, Read Live User Guide, and Read Live Online Help.
Crossword puzzle for each story.
Comparison questions in Sequenced levels 5.0 and above.
Fidelity checklist, full-color steps poster, phonics elements list, English and Spanish parent letters, and story title labels.
Worksheets for transitioning from Read Naturally SE or ME to Read Naturally Live.
Tech Support includes free:
E-mail support and updates.
Web support including a knowledgebase.
Phone support.
To use Read Live software, your computer must meet the following minimum system requirements:
Operating System Support

Windows 10 and higher
macOS 10.10 and higher
Chrome OS

Browser Support

Google Chrome versions 63 and higher (recommended)
Mozilla Firefox versions 60 and higher
Microsoft Internet Explorer versions 11 and higher
Apple Safari versions 10 and higher

Connection Speed

512 Kbps and faster (Dial-up connection is not supported.)

Resolution Support

Audio

Ability to play audio (headphones preferred)

Browser
Plug-ins

iPad Support

Requires Read Naturally Live iPad app
Download from the iTunes App Store
Requires Read Naturally Live subscription
Requires iOS 9.3.5 or later (supported on iPad 2 and newer)
Requires Internet connection, 512 Kbps or faster
Headphones recommended for audio support
Read Naturally Live Annual Subscriptions
The more Read Naturally Live seats you purchase, the less you pay per seat.
Examples:
2 seats x $159.00 per seat = $318.00
10 seats x $55.00 per seat = $550.00
50 seats x $23.00 per seat = $1150.00
200 seats x $19.00 per seat = $3800.00
The pricing below reflects the price per seat. When you enter a quantity, you will be given an option to change your quantity to get the best deal (the most seats for a given dollar amount). Contact us for custom pricing.
| Description | Item Number | Item Price, $ |
| --- | --- | --- |
| 1-5 seats | RL01A | $159.00 per seat |
| 6-29 seats | RL01B | $55.00 per seat |
| 30-129 seats | RL01C | $23.00 per seat |
| 130+ seats | RL01D | $19.00 per seat |
Read Naturally Live iPad App

Teachers set up and manage Read Live using a web browser (see supported web browsers). Students can access the Read Naturally Live curriculum either by using a web browser or by using the free Read Naturally Live app for Apple iPads.
Customer Reviews
Patricia Gallardo
Mar 17, 2016
5
Kim Marks
Mar 8, 2016
5
Read Naturally Live helps students improve their reading fluency using research-based, proven effective techniques like repeated reading and neurological impress. But the best thing about Read Live, and the reason it is so effective for struggling readers, is that students are intrinsically motivated to read, read and read some more. I love the way the nonfiction passages build background knowledge and I love watching students' reading ability increase exponentially.
Lisa Massey Title 1 teacher
Mar 8, 2016
5
I use the Read Naturally Live with my Title 1students for reading interventions. They love the program and are making great gains in their reading skills!! I would highly recommend this program to anyone!!! It is worth every cent!!
Cara O'Connor
Mar 8, 2016
5
This is our first year using Read Live, and we have seen great results! The stories are engaging and our students are excited to participate. I wish we could get all of our students on Read Live!
Becky Berry
Mar 8, 2016
5
We really like Read Live because students can start at their level and work at their own pace. It works well for us because we can give more students interventions using Read Live than trying to work with them in groups, and they get more actual reading practice time. Our students are making good progress using Read Live.
Cynthia
Mar 8, 2016
4
Our school utilizes this fantastic program daily! Even our parents get involved and help their own kids at home. We love the fluency progress and the ability to teach the necessary comprehension skills needed with the nonfiction passages! High interest stories with a wide variety!
Heidi Owens
Feb 9, 2016
5
We are madly in love with READ NATURALLY!!! I am currently teaching RtI grades kg-5, and use it with grades 1-5. My team teacher and I both agree that when we move back to a traditional classroom, READ LIVE will be a major component of our reading program! EVERY classroom should have this program. The results we have seen are AMAZING!! Student engagement and motivation are simply exciting to watch. Do what you have to do...just get this program!
Elizabeth Bundschu-Mooney
Jan 20, 2016
5
I have been using Read Naturally paper and computer based version for over 10 years and it is the most valuable tool I have in my tool box. I am able to service more students with the computer version and they can be fully independent. The Word-tastic piece is a great addition. I am able to track goals, have the students work independently, and see huge gains...but the most valuable is to see the self-confidence that the students have when they read 10 words in a cold read and then read 62 by their hot read. They love it and I praise them. It is the easiest praise to give....Such Rewards! Thank you.
A. White
Jan 19, 2016
4
I really like Read Live for my special education students. I don't feel it is something they can do completely independently, as the cold and hot readings should be monitored, in my opinion. I also have found that my students like to complete their own graphs---it seems to give them satisfaction to color in their cold and hot reading levels. We enjoy doing this program together and I see improvement in my student's reading fluency and comprehension. Great Program that I would recommend! :)
Sue T
Jan 15, 2016
5
This program has been great for me to use as Title I tutoring. We get wonderful results with the students, but also it's a way for us to work with as many as 14 students at one time. We have two to three teachers floating around the computer lab and all the students are Fully engaged. It's fabulous. I love the reports it generates as well. The reports help explain their improvement to the parents. I highly recommend it. P.S. Boys who are struggling readers love the nonfiction content.
Diana Johnson
Jan 14, 2016
5
As a special ed teacher, I have used Read Naturally for over 15 years. It has made a big difference in my students fluency and overall reading skills. I like Read Naturally Live because of the added vocabulary component in the form of a game. I have found that being on the computer has added to the motivation of my students and enabled me to manage more students and larger groups during the school day. It is exciting to see each student engaged at their own level and their own pace while they make progress they can see. They love watching the graph go higher and higher as their reading skills improve. In my opinion, this is one of the most successful reading programs available for students of all ages,and abilities.
Lisa Carney
Jan 14, 2016
4
My students come in each day and ask me if we are doing Read Naturally today. They all love it. One student said it was his favorite part of the day. All the while, they are all making huge improvements with their fluency!
Chris G.
Jan 14, 2016
5
I have used Read Naturally since the CD days and I have found the program to be outstanding. The Read Live version helps me provide individualized reading intervention to students in a way that I have not found in other products. As a resource room teacher, intervention coordinator and reading intervention teacher I have not found a better product for the price. I have used super expensive, super fancy programs, but they simply don't have your student read as much. The students read like crazy and obtain so much vocabulary from repeated reading and the quizzes. I highly recommend the product for 10 student or less reading intervention 2 stories passed a week and outstanding for a resource room.
Janet Batson, Reading Specialist
Jan 14, 2016
5
My students love Read Live. They rush into the computer lab and stay focused on the expository reading lessons. This program puts them in the "driver's seat" because they get to choose the stories and work at their pace. Several students told me their reading has improved. Read Live is great for the third grade students who need reading intervention.
Debbie Taylor
Jan 14, 2016
5
The intermediate students are loving the program. Boys who were previously reluctant to practice reading are anxiously asking if it is their reading time - and very disappointed when it isn't. I can't believe the growth, and improved confidence, I see in the students.
H. Owens
Jan 14, 2016
5
This program is WONDERFUL!! Highly engaging and student outcomes are awesome!! I wouldn't teach without it!!
J
Jan 13, 2016
5
This program is AMAZING! What it has done for my struggling readers is beyond belief. I love the fact that students have even noticed how helpful the program is and have even asked to be on it! I sing this program's praises to anyone who will listen!!!!!
Edward Louie
Dec 18, 2015
4
please make your app compatible with Voice Over.
Colleen Geisen
Dec 3, 2015
5
I talked to a parent this fall and she sang the praises of the Read Live program. This is what she had to say, "Read Live has helped my daughter the most. She has been in school since she was 3 years old and she started Read Live last year. She is now in 9th grade and it's the BEST program we have had her enrolled in."
Colleen Geisen, Reading Specialist at iForward Wisconsin ( a charter school of the Grantsburg School District).
Rebecca Kempthorn
Dec 2, 2015
5
HI!

I watched the webinar (Foundational Reading Skills) today. 'Just want to thank you for such an excellent presentation. I am Orton-Gillingham certified, so couldn't help but notice that EVERYTHING presented was clearly research-based and considered the most effective way to work with struggling readers. ~ The more I get to know about the Read Live program, which I use with several students, the more I love it! Thank you to you and the Read Live staff for creating such an amazingly complete program! It's perfect for our Tier 2 interventions.