Read Naturally Live provides...
An interactive reading intervention, often used for RTI implementation.
Options to easily differentiate the program to meet individual needs.
Motivating informational text for reluctant readers, from first grade to adult.
Extensive, computer-generated reports on student progress.
Nonfiction reading opportunities as required by Common Core State Standards.
Spanish translations for stories in early Sequenced levels.
Students...
Build fluency and motivation by reading short, nonfiction passages.
Increase reading accuracy and expression with audio support.
Strengthen comprehension and vocabulary.
Develop automaticity in decoding (Phonics levels).
Work independently most of the time.
Experience success and an improved attitude toward reading.
​Read Naturally Live accelerates reading achievement by combining the research-proven strategies of teacher modeling, repeated reading, and progress monitoring. A student works at his or her own pace in an appropriate level of material. Text and audio guide the student through the steps. The student masters a story by reading along with audio and then practicing the story until he or she can read it fluently and with comprehension. The program automatically tracks student progress.
​Read Naturally Live Steps
Select a Story
The student clicks on the story he or she wants to read. Choosing the story deepens the student's investment in the material.
Key Words
In the Sequenced series, the student reads the key words and their definitions while listening to an audio recording. The key words provide definitions that are important to understanding the story. In the Phonics series, the student listens to a phonics lesson and reads words that have the featured phonics patterns.
Prediction
The student uses the title, picture, and key words to write a prediction of what he or she thinks the story is about. The prediction prepares the student's mind for reading the story.
Cold Timing
The teacher may time the student, usually for one minute, as he or she reads the story, or the student may complete this step independently. The student clicks unknown words while reading, and then clicks the last word read during the timing. Read Naturally Live subtracts the unknown words from the total number of words attempted to obtain a cold-timing score and displays it on a graph. This step establishes a baseline for progress monitoring, the component of the Read Naturally Strategy that motivates the student to improve.
Read Along
The student reads along quietly with a recording of the story, typically three times. This step is the teacher-modeling component of the Read Naturally Strategy, which helps the student learn new words and master others as well as learn proper pronunciation, expression, and phrasing.
Practice
The student practices reading the story without audio support three to ten times until able to read it accurately, with expression, and at the goal rate. This step is the repeated-reading component of the Read Naturally Strategy, which helps the student improve fluency, master difficult words, and understand the story.
Quiz
The student answers questions about the story. Responding to the text holds the student accountable for meaning, develops the ability to answer many types of questions, and provides teachers with information about how well the student comprehends the story.
Retell/Word List
In the Sequenced series, the student retells or summarizes the story to improve comprehension.
In the Phonics series, the student works on decoding skills by practicing the word list until able to read it accurately at a predetermined rate.
​Pass
The student reads the story for the teacher to show that he or she can read it at the goal rate, with appropriate expression, and with three or fewer errors. The teacher corrects or reviews the comprehension questions with the student and the retelling of the story (if applicable).

In the Phonics series, the student also reads the word list to show that he or she can read it with three or fewer errors at the goal rate. ​A graph shows how much the student's fluency has improved since the cold timing.

​ Additional graphs show results for the comprehension questions, the retelling, and the word lists (if applicable).
Read Naturally Live subscriptions include access to all 19 levels of two series with 24 stories per level. Both series have the same basic design with strategic differences.
Sequenced series is the basic series and has 13 levels (1.0 – 8.0).
Phonics series adds phonics lessons and activities to the basic design and has 6 levels (0.8 – 2.7).
Read Naturally Live is a subscription program, licensed per student. Teachers can reassign licenses if students leave the program.
The teacher assigns the appropriate series and level for each student. The student works through the level in the student module, and the teacher manages the student's progress in the teacher module.
STUDENT MODULE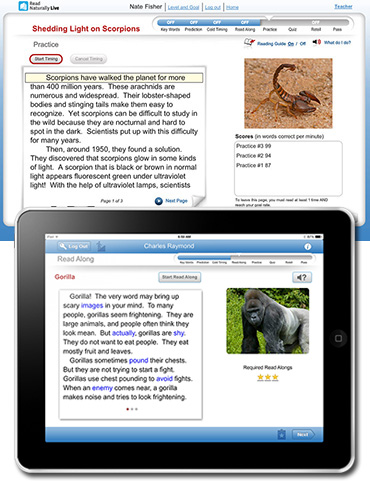 High-interest, leveled, nonfiction stories include:
Key words, clickable vocabulary words, and comprehension activities.
Spanish translation of each story in Sequenced levels 1.0 – 4.5.
Extensive audio support includes:
Three appropriately paced recordings that model correct pronunciation and expression.
Pronunciation of words in stories when clicked.
Audio for key words in the Sequenced series and for a phonics lesson in the Phonics series.
Clickable vocabulary words with audio-supported, student-friendly definitions.
Spanish translation of each story in Sequenced levels 1.0 – 4.5.
Auditory signals that indicate if a student's responses to multiple choice items are correct or incorrect.
Structured instructional process includes:
Automated steps built around teacher modeling, repeated reading, and progress monitoring.
A wait-time vocabulary-building activity.
Computerized scoring and extensive reports include:
Automated correction of multiple-choice questions.
Calculation of fluency, phonics, and comprehension scores.
Graphs and reports showing student performance.
TEACHER MODULE

Set up of account for district, building, classroom, staff, and/or students include:
Enrolling staff and students.
Licensing staff and students.
Management of student programs includes:
Placement of each student in a level and series with an appropriate reading-rate goal.
Easily customized options for individual students and extensive student reports.
Printable stories, reports, parent letters, awards, and completion certificates.
Online User Guide includes:
Step-by step instructions for working in the software and "how to" section on setting up Read Naturally Live.
Lesson plans for introducing the program to students.
ONLINE RESOURCES AND TECH SUPPORT
Free web resources include:
Read Live Instant Demo, Read Live Quick-Start Guide, and Read Live Online Help.
Crossword puzzle for each story.
Comparison questions in Sequenced levels 5.0 and above.
Fidelity checklist, full-color steps poster, phonics elements list, worksheets for transitioning from Read Naturally SE or ME to Read Naturally Live, story title labels.
Tech Support includes free:
E-mail support and updates.
Web support including a knowledgebase.
Phone support.
To use Read Live software, your computer must meet the following minimum system requirements:
Operating System Compatibility

Windows XP and higher
Mac OS X 10.5 and higher
Chrome OS

Browser Compatibility

Google Chrome versions 17 and higher (recommended)
Mozilla Firefox versions 4 and higher
Microsoft Internet Explorer versions 8 and higher
Apple Safari versions 5 and higher (Mac OS only)

Browser
Plug-ins

Internet Connection

512 Kbps and faster (Dial-up connection is not supported.)

Screen Resolution

Audio

Ability to play audio (headphones preferred)

iPad Requirements

Read Naturally Live iPad app
Download from the iTunes App Store
Read Naturally Live subscription
iOS 5 or later
Internet connection, 512 Kbps or faster
Headphones recommended for audio support
Read Naturally Live Instant Demo
Thank you for your interest in evaluating Read Naturally Live, a reading intervention from Read Naturally, and part of the Read Live program.
About the Instant Demo
The Instant Demo enables you to easily experience the core steps of the Read Naturally Live program. Explore how it provides individualized, differentiated instruction for each student as it develops fluency, supports vocabulary, and promotes comprehension and phonics skills. No downloading, installation, setup or licensing is required. Just complete the form below with your contact information, and you'll receive passwords and instructions for working through the steps of a Read Naturally Live story as a student in any of the following levels:
Phonics 1.8
Sequenced 2.5
Sequenced 6.0
You will have full access to the features of the program within these levels and can experience how your students will use the program. You may run the Instant Demo as many times as you wish.
Note: This demo is not accessible from the Read Naturally Live iPad app. To try the iPad app, you can register for a free 60-day trial. Once you have set up your trial account, your students can access Read Naturally Live from the Read Naturally Live iPad app or from any computer with a compatible web browser.
Register for the Instant Demo
Please complete the form below to gain access to the Read Naturally Live instant demo.


Minimum system requirements
Read Naturally Live iPad App

Teachers set up and manage Read Live using a web browser (see supported web browsers). Students can access the Read Naturally Live curriculum either by using a web browser or by using the free Read Naturally Live app for Apple iPads.
Read Naturally Live Annual Subscriptions
Read Naturally Live has different pricing tiers based on the number of seats purchased. The pricing below reflects the price per seat. Contact us for custom pricing.
| Description | Item Number | Item Price, $ |
| --- | --- | --- |
| 1-5 seats | RL01A | $149.00 |
| 6-29 seats | RL01B | $49.83 |
| 30-129 seats | RL01C | $19.97 |
| 130+ seats | RL01D | $15.38 |
What Customers Say About Read Naturally Live
"We are successfully integrating the Read Live components with our literacy program. Students are highly motivated to apply taught strategies and are truly interested in the range of topics offered. The ability to customize this program allows us to meet the needs of each student."
— Nancy, Classroom Teacher, Exeter, NH
"We serve a large population of second language learners at our school. Because they are all at different fluency levels, it was hard to give them the instruction and attention that they needed. Read Live is the perfect solution. It reaches all learners at their fluency level and allows them to work at their own pace. It truly is a fabulous program."
— Esther, ELL Administrator, Ojai, CA
"I have found Read Naturally to be an excellent intervention for building reading fluency. The levels are well sequenced, interesting, and the non-fiction stories build the students' vocabulary and knowledge. My students are motivated to use it, and they can work for the most part independently, allowing me to work with more students at a time and still be effective. The Read Live version is the best!"
— Barbara H., Special Education Teacher, Missoula, MT
Customer Reviews
Carilyn Goldammer
Dec 15, 2014
4
The teachers are still figuring out how to manage the program. There are two teachers, one full time and one half time. I come two mornings a week as the RST Since one teacher has 5-8 in the mornings and 1-8 in the afternoon, he's the most challenged. But we are working on it. Unfortunately he's only just now actually started exploring it. )-: The part time primary teacher has had her students working on it and loves it. So, it's a 4 until we are all on board.
Jennifer Hersom
Dec 12, 2014
5
We have used Read Naturally as an intervention for approximately five years & we are now in the process of moving to the LIVE version. Features that we appreciate are: passages of high student interest, vocabulary development by way of key words & a blend of comprehension questions that provide students the important opportunity to transfer thoughts to writing~ reflecting best practices in reading comprehension. Both the paper/pencil and LIVE version also include another best practice: student goal setting and tracking of progress. We thank you for a thoughtful product!
-Jennifer H, Principal, Rochester, NH
Jill Darland
Dec 10, 2014
5
We use Read Live in before/after school tutoring as well during the day in a section of reading interventions. As a school we believe any student who is having difficulty with the oral reading fluency gets the Read Live instruction during their day at school. We have been seeing students oral reading fluency continue to grow as they read and answer all of the variety of questions and complete the activities in the Read Live computer program. - Jill Darland, Resource Teacher , Durango, Colorado
Linda Aspen-Baxter
Dec 10, 2014
5
At the beginning of November, we began a 60-day trial using ReadLive with small groups of students in Grades 6, 7, and 8 whom we identified to be reading two or more grades below their current grade level. We are so thrilled with the progress demonstrated by these students and their increased confidence and engagement with reading that we are now subscribers to the program. We appreciate the individualized nature of the program because it allows each student to work at his/her own reading level. The focus on non-fiction selections provides a wealth of fascinating topics that engage students with a variety of interests. We also find that our middle years students don't question the maturity level of the selections they are reading because they are non-fiction. We have readers at very early stages of their reading development, and it is essential for their engagement that they don't see themselves as reading "baby" books. The required practices that students must do to pass a selection are so important for them to build fluency and confidence. When they meet their reading goals (words correct per minute), they are thrilled. These are students who have not experienced a lot of success in the regular classroom, and they are blossoming as they get to taste success. The program focuses on accuracy, fluency, the development of vocabulary, and comprehension skills... everything that these students need. We are currently looking at ways that we can incorporate ReadLive with more of our middle years students because we can see the potential in this program and the benefit it can have for a much wider range of students.
Christine Thornton
Dec 3, 2014
5
As a teacher I have seen amazing progress in my classroom with my below grade level readers. The stories are appropriate and inviting and encourages the reading of Non-Fiction.

As a parent I have implemented the free trial with my eighth grader who is not motivated to "read for information" as our standardize tests require. I have seen tremendous improvement on her concentration and her ability to recall the story.

Overall an exciting program that kids seem to love.

Christine Thornton, ESE teacher, Tallahassee, Florida
Colleen Geisen
Nov 19, 2014
5
Read Naturally has been an amazing life changing program. When my son was finishing second grade he was still a struggling reader despite our work with him at home and excellent teachers at school. He was a choppy reader that took a long time to finish a book. He could comprehend books read to him at a high level, we know the potential was there. My brother who taught in Minneapolis shared the Read Naturally program with me and I used it with Kevin for about 3-4 months over that summer and into third grade. He got over the hump and became a reader! He turned into a kid that walked around on the playground and read the Magic Tree House books during third grade! Our son was diagnosed with dyslexia around this same time, but the Read Naturally program helped him become a reader. He is now a successful college student!

Currently the school I teach at is adopting Read Live as an intervention for struggling readers in middle and high school. We're on our third week of using the program and many of the students are starting to show improvements already! The stories are engaging; students have an opportunity to build vocabulary and comprehension while becoming fluent readers.
Margaret
Nov 4, 2014
5
I was first introduced to Read Naturally via the CDs when I ran a free community-wide after school homework program over 10 years ago. I found it worked well. Later when I began homeschooling my 11 year old niece I used Read Naturally as her reading program. She had great fluency but absolutely no comprehension. I was able to get her to grade level in about 1.5 years (she did one story a day five days a week and all 24 stories in a level). She started at Level 3.5 and was at grade level when she completed Level 5.6.

I am now working as basically the Resource Teacher in a small private school and switched from the CDs to Read Live two years ago. I have students with little to no fluency and/or comprehension. By using Read Live these students have progressed from 1.5 to 3 grade levels in a single school year. I prefer that they do a story at least three times a week and I have students who request more opportunities to read. With the increased ability to read, some of the students with behavioral issues have had a significant reduction in incidents. Most of the students are able to progress to the next level after only 12 stories. I have a small form that the students take back to class (with a second copy to go home) so the classroom teacher can see the title of the story and the cold/practice/hot read timings. The students particularly enjoy this aspect and are very proud of their daily work.

In working with the students, I have found it very useful that I am able to move students between the Phonics and Sequenced formats and to select stories based on the phonemic components. One student did very well in the sequenced series initially but once she started seeing words with long vowels and vowel digraphs she needed to move to the phonics series.

Although the program is geared to school age students, the stories are also very appropriate to adult learners.
Andrea Hsu
Oct 29, 2014
5
Our school district recently moved from the CD version of Read Naturally to Read Naturally Live. We instantly noticed an increase in student engagement, accountability, and productivity. The students are asking their teachers when they get to leave the class to work on Read Naturally Live, they love it and so do we!
Rachel
Oct 9, 2014
4
I homeschool and my advisor recommended this program. I gave it a trial for the free 2 month subscription time. I was initially skeptical of the program as it involved a lot of repetition and timing on a computer and I was unsure about the long term benefits . . . plus I knew it was going to be a significant amount of money from my allotment.

PROS: I love the reading practice, the ability to adjust the levels for my son so he feel challenged but not stressed, the comprehension questions after reading a passage, and the drill questions while he is waiting for the teacher. Last year, he pretty much shut down when reading happened and was very resistant to learning how to read. It was always a battle. This program encouraged him so much that he now chooses it first out of all his homework. He started out reading an average of 5 words per minute in his cold reading of a paragraph (a 1 minute timed reading of a paragraph he had never seen before) and he now is reading an average of 15 to 20 words per minute in the cold timing. This is after two months using this program about 30 minutes 4 days a week. The reading does carry over to his other work, and his confidence is much higher, which helps so much as well. Words such as "some" that he reads repetitively in several of these paragraphs he is able to recognize in his other books and homework as well. He has also learned some nonfiction facts from reading the passages.

CONS: These are small in comparison to how helpful the program is. Several sections in each reading require a timed response using the keyboard. If the child is not used to typing, and most younger children are not, they spend all of their time hunting for letters instead of learning. While this does help them learn the keyboard, it stresses them out to not be able to finish their answer before the time goes off. I cannot adjust the time for this section either. However, I will ask him to orally tell me his response and I can type it for him. Or we just don't worry about that part as much. Knowing that there is a time limit does also help him to finish more quickly at times. Once the phonics .8 section required him to read/practice the work "heck" which I found unpleasant and unnecessary. This was only in one story and has not been repeated again, so it may not be an issue in the future.
BOTTOM LINE: He improved so much and he loves the program! There's a lot of levels and material that will last for many years. He feels more confident reading. It is easy to track his progress and report what he is doing to our advisor. It does require a computer or IPad, and at least for the younger grades it isn't completely stand alone - I usually need to be near him while he is doing it (but that helps as well). I'd try the free 2 month subscription and see how it works for your child. It can't hurt!

TJ Ihnot, Marketing at Read Naturally
Oct 10, 2014
Thanks for the review, Rachel. We are so glad your son is having success with the program. The steps of Read Naturally Live can be adjusted to better suit your situation. You may want to turn off the prediction and retell steps to limit the amount of keyboarding required. Please see the Setting Story Options Video to learn how to can turn off steps, allow independent cold readings, adjust the number of read alongs, and change the duration of practices and hot timings. Hopefully this help your son get even more out of the program.
Katharine
Oct 1, 2014
5
I am a school psychologist and college professor. I am also the mother of a struggling reader. Because I am not new to this, as soon as I saw my daughter having difficulties, I got to work. She has been provided with a great deal of supplementary phonics instruction through her school's pre-referral intervention team, a private tutor and an expensive summer program. While phonics instruction has been an essential component to her reading development, her ability to sound out words has not translated into fluency. She continues to struggle with text and started second grade this year with very little confidence in her skills. I decided that I was done paying tutors to come in once or twice a week and provide fragmented supports. I was going to implement an intervention on my own. I looked at the research and narrowed down my options to Read Naturally and Rave-O. Because Rave-O is more of a curriculum than an intervention, I decided it was too complicated to administer at home. I also worried that it would interfere with the instruction my daughter was receiving in school. Within a few days of starting Read Naturally, my daughter improved enough that I moved her goals up- from instructional on first grade passages, to fluent on first grade passages. Within ten days, her teacher (who had no knowledge of the intervention) emailed me to report that she had seen improvement in my daughter's skills. Not all reading difficulties are alike and my experience is not proof of a program's universal effectiveness. That said, I have been pretty impressed with the simplicity of the design, the ease of administration and the results.
Jerry Hubbs
May 27, 2014
5
We started the Read Naturally Live program at the first of the year and what a great product. The students have responded well and are progressing. This program demands input from a teacher which is great. We have really seen an improvement from a stand alone program we had before. Thank you so much for all that is provided. Many of our students have reading problems because of language fluency difficulties but have been able to apply themselves and are getting better. Good job to all of you!!
Clozelle Harris
Apr 29, 2014
5
I really believe in the product. My students showed improvement in a very short period of time. I'm very appreciative that your curriculum person is willing take the time to discuss use of the product and my students. It probably isn't her job to do that, but it is great that she is willing to do so.
Karen McKenna, Director of Curriculum at Read Naturally
Jun 20, 2014
It is my pleasure, Clozelle. I am pleased that you seek out the information you need to make our programs work effectively for your students! Read Naturally strives to be responsive to our teachers and teacher leaders. That is one of the best parts of my job.
Chris Miller
Apr 28, 2014
5
We've been really pleased at the ease of use of the software and the student results. Really solid product.
Juli K
Apr 22, 2014
5
Our teachers LOVE Read Naturally. Many are using Read Live with the Benchmark Assessor. Great program! The training videos online along with the Teacher Manual are very explicit and helpful. I had been to several trainings at conferences, prior to getting my position in my current school district. Read Naturally is an excellent program to work on fluency and comprehension. Students find it extremely motivating! We have also used the passages as CBMs for progress monitoring purposes to measure the effectiveness of specially designed instruction implemented in the area of decoding. We have had students that needed 3 probes per week. So while the benchmark assessor is valuable for checking progress 3x/year, when the requirement is to take probes more frequently, Read Live stories have been a life saver.
TJ Ihnot, Marketing at Read Naturally
Apr 22, 2014
Thanks for your comments, Juli. Read Naturally offers passages specifically for progress monitoring called Reading Fluency Progress Monitor.
Karen
Apr 22, 2014
5
My 5th graders started Read Live in Feb. They literally run down the hall to the computer lab to get started on their Read Live Stories. One student, who often falls asleep in class, is highly engaged on Read Live and is making wonderful progress. We all are enjoying the excellent stories and learning a lot!
Callie K.
Apr 22, 2014
4
Read Naturally Live is a great program. It is repetitive enough for them to use independently. My students were very excited to use it at first. However, I have had to provide a class sticker chart to show the number of stories each student has completed in order to keep them motivated over time (after they complete two stories, they get a small prize). Some suggested improvements: 1) I feel there should be a read-along component to go with the phonics-based words list. If students are doing this independently, they may think they know a word so they don't always click on them. Then they read it incorrectly 3 times before I correct them. 2) On the word list, I feel the harder words should be at the bottom. For example, in the -at column, the words are listed flat, fat, at, cat, hat. My students struggle to blend letters, so they get really stuck on flat because it's first. If they had a chance to read at, fat, cat, hat, they might have an easier time realizing that word rhymes, so it must be flat. 3) Make the long term fluency chart visible to students after completing each story. They want to see themselves improving over time, and this would help motivate them to try their hardest on the read alongs and practicing of the story.
Karen McKenna, Director of Curriculum at Read Naturally
Apr 22, 2014
Thank you for your thoughtful review, Callie. Read Naturally Live gets students to do the same task over and over because of the intrinsic motivation that comes from improving a little bit each time, but students sometimes do need additional motivation. You'll be pleased to learn that the long-term fluency chart is already available to students after completing each story! There are three tabs at the top of the Story Details page shown in the Pass Step. Each tab has a graph: fluency, comprehension, and word lists (or retellings in Sequenced levels) so the student can see progress on all completed stories. Please see Read Naturally Live FAQs for some suggestions about supporting students during the Word List step. Your comments help us as we consider changes for future releases. We will note them and discuss each of these in our planning sessions
Katherine Martin
Apr 22, 2014
4
The only problem I find is during the testing of the word list on the ipad or tablet. In the second part of the word list test, as a child "traces" the list across, their palm is likely to touch the "finished" button. This skews the timing score as it ends the session prematurely. Perhaps the "finished" button could be moved to another area of the screen.
Karen McKenna, Director of Curriculum at Read Naturally
Apr 22, 2014
Thank you, Katherine for the input. I am pleased that the iPad version of the student program is useful for working with your students. We have recorded your suggestion about button placement and will consider the issue when we plan future releases.
Sandy
Apr 21, 2014
5
We switched over to Read Live in January. Our reluctant students seem to really enjoy this version so much better. I actually look forward to it as well. The results show that it really works and the students see their success.
Suzanne Levine
Apr 18, 2014
5
As a Reading Specialist and Resource Room teacher, I am very satisfied with Read Live. But the most important factor is that my students are very enthusiastic and excited to be on Read Live. They are so motivated to improve their levels and they enjoy the graphics especially the starts and the sounds associated with a correct answer.
Debbie Matz
Apr 17, 2014
5
We tried the trial Read Live program and were very pleased. We purchased the program and our tier 2 intervention students are much more motivated using this program than when they were using the paper version. The reports are great for sharing at our RtI meetings too.Thank you!