What Is RTI?
Response to Intervention (RTI) is a well-developed, collaborative process involving regular and special education. RTI emphasizes collaborative decision-making using periodic assessment, differentiated instruction in classrooms, and increasingly intense interventions as needed. The critical components of RTI are well-designed curriculum and instruction, interventions at increasing levels of intensity, well-trained staff, and assessment-driven decision-making.
Most schools develop a multi-tiered RTI model to provide struggling learners with services and interventions at increasing levels of intensity, as illustrated in this RTI pyramid: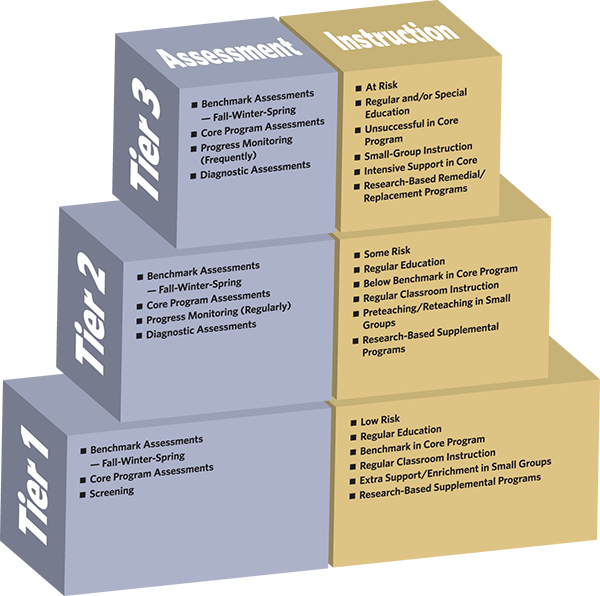 ​
In an RTI model all students receive standards-based comprehensive reading instruction with differentiated instruction as needed. Universal screening identifies students who need additional diagnostic assessment and strategic supplementary instruction. These students receive increasingly more intensive instruction with data-driven program adjustments as indicated by periodic assessments of progress. A few students, whose skills are far behind their peers, may need to receive only specialized intervention, but for the shortest amount of time as possible. This cycle of intervention, progress monitoring, and adjustment of the intervention continues—even if a determination for special education eligibility is made—in a seamless collaboration between regular and special education.

Learn more: Tiers of the RTI pyramid
RTI vs. Multi-Tiered System of Supports (MTSS)
RTI and Multi-Tiered System of Supports (MTSS) are sometimes used interchangeably among educators, but they are not exactly the same. An RTI framework addresses students' academic needs, but the scope of MTSS is more comprehensive. Student learning is still central to the MTSS model, but it also addresses other factors, including the social, emotional, and behavioral development of students.

Learn more about MTSS
Read Naturally Assessments in an RTI Model
Read Naturally's valid and reliable oral reading fluency assessments and diagnostic phonics assessment have been designed to monitor and document student progress. Read Naturally assessments can be used to screen for students who are at risk for reading difficulty, to diagnosis specific instructional needs, and/or to assess student progress over time.
Quick Phonics Screener is used with students in any of the three tiers. Reading Fluency Progress Monitor is appropriate for frequent assessments of students in Tier 1 and Tier 2.

Learn more: Read Naturally assessments in an RTI model
Using Read Naturally Programs as RTI Reading Interventions
Read Naturally programs are well-suited to support core reading programs in an RTI Model.
Well-designed curriculum and instruction.
Research-based interventions at increasing levels of difficulty and intensity.
High-quality instructional supports to empower self-directed learning.
Systematic documentation of student performance for instructional decision-making.
Training for staff.

Learn more: Using Read Naturally programs as RTI reading interventions
Funēmics
Small-group instruction to teach phonemic awareness using scripted curriculum and interactive exercises.
Learn more about Funēmics