The Summit School
Edgewater, MD
2019 Read Live School of the Year Runner-Up
Submitted by Leslie Eget, Director of Program Supports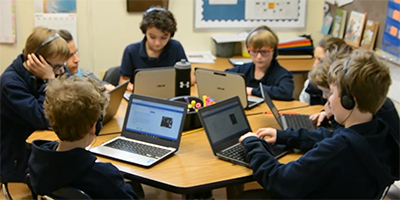 Our runner-up winner, The Summit School, has been using Read Naturally programs since 2010 and began using Read Naturally Live in 2017. The number of students using Read Naturally at The Summit School has continued to grow since the implementation of Read Naturally Live. Students, teachers and parents are all requesting Read Naturally Live, especially after an informal study first semester. The study showed students using Read Naturally Live had growth rates in oral fluency and vocabulary that were at least 20% higher than the growth of their peers not placed in the Read Naturally Live program.
In nominating The Summit School for the award, Ms. Eget wrote:
​"The Summit School is excited to apply for the Read Live School of the Year award for 2018-2019. The Summit School in Edgewater, Maryland is a small, independent, nonpublic school for students with learning differences. Most of our students were unsuccessful in mainstream schools and are children with dyslexia. As the Director of Program Supports, I am in awe of the determination of both our teachers and students to overcome these learning challenges.
"Using evidence-based methodologies and monitoring outcomes, we strive to maximize our students' strengths and support their weaknesses. Reading fluency is a significant weakness among nearly all the children at our school. Our students' needs are great, as some are reading more than four years below grade level. The Summit School introduced Read Naturally in 2010. The intervention was implemented by one teacher with only a few students. Based on end-of-year data highlighting significant gains made, our school found it to be a promising intervention. In 2011, eight additional teachers were trained.
"Since those initial years of implementation, Read Naturally Live evolved into a more convenient and time-saving intervention that continued to be supported by research. We introduced Read Live to our eighth graders during the 2016-2017 year. Read Live is now a sought-out intervention by teachers, students, and parents. We began the school year with forty-two licenses for an enrollment of one hundred students. We have since added thirteen more licenses after observing its effectiveness. The program is in demand, and we want to offer it to all our students.
"All students were administered benchmark testing through Aimswebplus in September 2018 and January 2019. This year, twenty-one students were initially identified to receive Read Live. During the first semester, 12 students from sixth grade, six students from fourth grade, and three students from eighth grade participated. These students were matched with similarly skilled peers from their grade level, and rates of improvement (ROI) were analyzed. Scores were obtained for oral reading fluency, comprehension, and vocabulary. Comparisons were made between students who received the Read Live intervention in addition to the school-wide reading intervention and those who received the school-wide intervention only. Based on Aimswebplus benchmarks, children who received Read Live had an average ROI in oral reading fluency of 69%. In comparison, children who did not have the Read Live intervention had an average ROI of 44%. Among our sixth graders who received Read Live during the first semester, the average ROI was 74%. In comparison, the sixth graders who did not receive Read Live had an average ROI of 42%. In addition, our Read Live students had over 20% more growth in vocabulary compared to our non-Read Live students.
"We have since added more licenses and have 62 students receiving Read Live. Teachers and parents are requesting their children be included. The buy-in is exceptional. Teachers see the progress of their students, and children feel good about reading, some for the first time ever. Our students love tracking their progress and feel comfortable working at their level. Our students have a range of proficiency, and some are sensitive about their skills. Since students are unaware of where others are placed, they can focus on their own goals.
Our school would be honored to be the Read Live School of the Year. Please enjoy our video submission to hear more about how Read Live is being implemented at The Summit School."
Video
See the Read Naturally Live program in action at The Summit School and learn how it is helping students become proficient readers.