Harrison Junior School
Harrison, OH
2019 Read Live School of the Year Runner-Up
Submitted by Katelyn Harm, Reading Tutor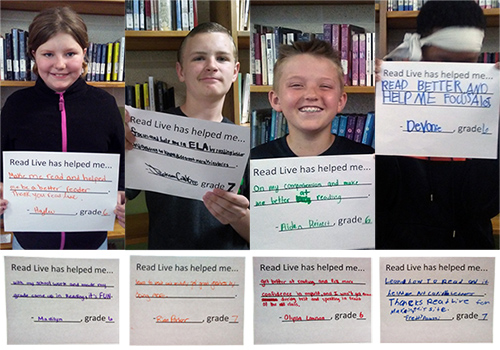 Our runner-up winner, Harrison Junior School, started using Read Naturally Live in 2015. Reading Tutor Katelyn Moorehead works with 69 students for one hour each day in Read Naturally Live, targeting students that scored in the bottom 8% on reading in the school. This year, 46% of her students are now reading on or above grade level. Read Naturally Live is implemented with fidelity at Harrison Junior School.
In nominating Harrison Junior School for the award, Ms. Moorhead wrote:
​"Read Live, We Strive! I've been working with Read Naturally products since the implementation of our reading intervention program four years ago. Per our mission statement, Harrison Junior School strives for academic and social growth for all students, every day, and Read Live has assisted us in living up to that standard. We pride ourselves in meeting the needs of students from all ability levels by offering support to our struggling readers.
​"HJS values literacy so highly that we use the Read Naturally program with fidelity and offer Read Live as an intervention course of its own. This means that the students who qualify for the class (bottom 8% of population according to school wide reading test results) work on Read Live with me in the media center for one hour every school day. With such commitment and consistent utilization of the program, the proof is in the numbers. Just this school year alone, 69 students have participated in Read Live, and 32 have put in the effort, shown unbelievable growth, and are meeting target fluency and comprehension scores at or above grade level or have been dismissed from the program completely.
​"Considering these students join the program significantly below grade-level benchmarks, we deem this a tremendous success! Read Live serves a majority of IEP students to continue to provide academic support, but it is still a significant tool for catching those who may otherwise fall through the cracks without additional aid in reading. If there's one thing we've focused on most this school year and worked hard to tackle, it's that differentiation Is key. Read Live meets students at their level and provides support in the way that works best for their individual needs.
​"As a reading tutor, my job solely focuses on the use of Read Live. I test my students every 2 weeks to track their progress. I use Read Live in collaboration with Pearson's Aimsweb resources to monitor progress in fluency and comprehension. The data that Read Live provides has been extremely helpful in the beginning stages of developing IEPs and in taking a deeper look at how exactly students are performing. It gives us a more specific idea of their fluency and comprehension skills on a measurable level. The charts and graphs have been a phenomenal tool in meetings to quickly and clearly share data with the team.
​"What I love about Read Live is the visible difference it makes for our students. Read Live allows students to work at their own pace, at their own level, with their own goals which gives them the opportunity to feel successful and accomplished. The non-fiction stories truly spark their interest in new subjects, and they really do want to learn more. Many times, telling a student that they can look up pictures or watch a video on a certain topic when they're done is enough motivation to move them through the work with real effort. Read Live is changing our kids' lives one story at a time, and we hope you enjoy seeing and hearing from our school!"
Video
Hear students and Reading Tutor Katelyn Harm talk about the Read Live program at Harrison Junior School and how it has helped the students become better readers.
Testimonials
"Read Live has transformed students who were struggling readers into accomplished readers. Read Live is used in our building for readers with intensive reading intervention needs. We have seen phenomenal growth with these students involved in the program. We have documented that 46% of students engaged in the program this year have either exited the program reading at grade level or are meeting targets."
​— Jeannine Rice, School Psychologist
"Read Live has provided our students with an avenue to improve their reading skills in a manner that catches them at their level and builds on their experiences. Read Live has provided our instructor a tool that has been a great benefit to our students."
— Christian Tracy, Principal