Pioneer Elementary School
Pierz, MN
2019 Read Live School of the Year
Submitted by Miranda Hoheisel, SLD Special Education Teacher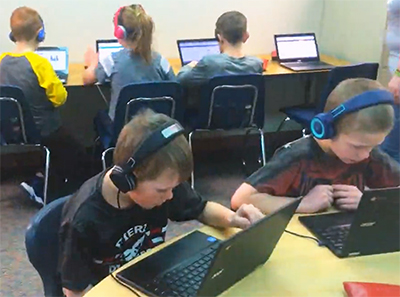 Our grand-prize winner, Pioneer Elementary School, has been using Read Naturally Strategy programs for the last eight years and started with Read Naturally Live in 2015. They use the program as an intervention for Tier 2 and 3 students in grades 1–3. Read Naturally Live is also used with their English language learners and dyslexic students. Of the students in grades 1-3 that are using Read Naturally Live, 80% will meet their fluency goals.
In nominating Pioneer Elementary for the award, Ms. Hoheisel wrote:
​"We believe that our school should be chosen as the Read Live School of the Year. We use the program with fidelity, in grades 1 through 3 for the past eight years. In these eight years we have found tremendous success in reading decoding, fluency, comprehension, and vocabulary with our most struggling readers. Within our intervention groups (grades 1–3) our students use the Read Naturally Live program and make more than a year's growth in their reading skills. With the help of this program, we are able to get students on track to meet the end-of-the-year learning goals who start out being more than a year behind.
​"The Read Live program gives us the ability to respond to a variety of student needs. We use the program to service our Tier 2 and Tier 3 students as well as English Language Learners and students with dyslexia. The program's unique design gives us the ability to individualize student goals and learning. This feature has impacted student success in the area of accuracy and comprehension but most importantly has given students an opportunity to be successful and learn at their own pace.
​"Students who use the program come in excited and are engaged. They like that they are able to choose the stories that they are interested in. They are motivated by the graphs and by seeing their progress daily. As teachers, it gives us so much pleasure to see the students' excitement when we increase their goals and challenge them.
​"We know as teachers the more we can individualize interventions, the faster progress is made. Read Live gives us that opportunity. By using the data from the program, we are able to individualize small group instruction in the areas of fluency, vocabulary, and comprehension.
​"Our data shows that, with the proper use of this program, students in grades 1 through 3 at Pioneer Elementary are closing their reading achievement gap and are enjoying their reading success. "
Video
Learn how using Read Naturally Live as a core component of their intervention program has helped Pioneer Elementary achieve "tremendous results" with their students.