Abraham Lincoln Elementary School
Hastings, NE
2020 Read Live School of the Year
Submitted by Becki Kulwiki, Title I Teacher, Abraham Lincoln Elementary School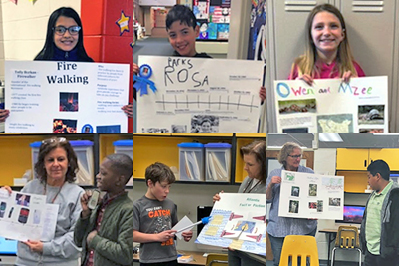 Abraham Lincoln Elementary School has been using Read Live for over 5 years. They use the program as an intervention for their 4th and 5th grade English learners and SPED students with the greatest need. In the first half of the school year, all the students using Read Live increased their Academic Data Management scores.
In her nomination, Becki wrote:
"Abraham Lincoln Elementary School in Hastings Nebraska is a perfect school to be representing the positive impact that Read Live has on student success. We have used the Read Live program for at least 5 years in grades 4 and 5 . Lincoln School is an at-risk school with 93% poverty. In our Read Live intervention groups, we have 47% of our students that are EL and 30% receive SPED services. We have been using the program as an intervention tool for our most at-risk struggling students.
"We have really seen great success in the areas of reading decoding, fluency, comprehension, and vocabulary. After assessing students and targeting the students in greatest need we are able to track progress with the very precise assessment components that are part of the Read Live program. One of the great aspects of this program is the variety that is offered. Not only variety in the stories but the variety in the skills that can be covered. The success of any intervention is targeting the skills needed specifically by each individual student. Read Live delivers exactly what each individual student needs all in a timeframe that works for multiple students. As far as interventions go, you can't ask for anything more!
"Another positive, as interventionist, we appreciate that the students are self motivated by this program. They love the stories and push themselves to move up the levels and often ask to move up levels or increase their WPM. Data shows that 100% of the students increased their score determined by Acadeince Data Management. Scores in Oral Reading Fluency and Retell quality were increased with an average of 18 WPM from just the beginning of this school year to the middle. Had our school year not been cut short by Covid-19, just imagine the growth we would have seen!
"A couple years ago we felt that in the classroom, in the regular education setting, that our writing instruction was not getting the time that was needed. So we incorporated a graphic organizer and started to have students write their retells out and then type them into the Read Live program. This year we felt that another deficit in the classroom was research and presentation skills. We found that when kids were reading the stories they were so interested in the topics they wanted to know more. We now allow them to choose one story after a series, do a research project on that topic, make a poster and present it to the group. The kids love it and we appreciate their love and drive for learning! This will be another skill that will follow them to the Middle School but that would not be possible without the great variety and high interest stories that are available in the Read Live program!
"Abraham Lincoln Elementary thoroughly enjoys and appreciates the Read Live program. Because of the success we have seen in 4th and 5th grade we anticipate using the program in 3rd grade. We are ready to branch out and look forward to adding a new grade level to our intervention bag of tricks. Next year we anticipate students struggling even more than usual because of the 45 days lost due to Covid-19 so we will look forward to using Read Live to catch our students up on academics and close that reading gap. Thank you for your consideration of Abraham Lincoln Elementary being the next Read Live School of the Year!"