We are pleased to announce the winners of the fourth annual Read Live School of the Year Award. Students in the winning schools made great gains and substantially improved their reading skills despite the many challenges of the past school year. Each of the winners demonstrated:
The school's commitment to using Read Live with fidelity.
Students' growth in reading proficiency.
Positive changes in student attitudes and motivation.
Excellent nominations came in from across the country making the selection process especially difficult this year. Our committee chose one grand prize winner ($2,000 Read Naturally gift certificate), three runners-up ($500 Read Naturally gift certificate), and several honorable mentions ($100 Read Naturally gift certificates).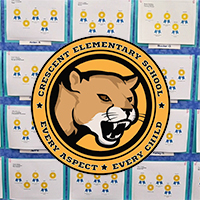 The grand prize winner is Crescent Elementary School in Anaheim, CA, nominated by Lauren Caughren, Special Education Teacher. Crescent Elementary School is part of the Orange Unified School District. This was their first year using Read Live after upgrading from Read Naturally Masters Edition. Read Live was used with students in grades 2-6. It allowed students attending in-person to connect with their peers learning remotely. Students using the program experienced growth in their reading levels and personal confidence.
Check out their great video and written submission to learn more about the dedicated educators and hardworking students at Crescent Elementary.
Runners-up for the Read Live School of the Year award are Cottonwood Elementary, De Zavala Elementary, and Upson-Lee Elementary. Follow those links to learn more about their great success and view the videos.
We also congratulate the following schools on winning honorable mention:
Adams Elementary, Santa Barbara, CA
Gilmore Elementary, League City, TX
Great Hearts North Phoenix Academy, Phoenix, AZ
Jackson Middle School, Lakefield, MN
Morningside Elementary School, Kimberly, ID
Peckham School, Newkirk, OK
Royster Middle School, Chanute, KS
Scott City Middle School, Scott City, KS
Congratulations to all the students and teachers at our winning schools! Thank you to each and every school that applied for this year's award. We are proud of your success and eager to continue supporting you in the years to come.