Treatment Group/Matched Control Group
Increasing fluency, rate, and accuracy for students at risk for reading failure
Tucker, C. & Jones, D. (2010)
RTI Study of Fourth-Grade Students in Massachusetts
A study by two university researchers demonstrated that students who received Read Naturally instruction as a supplementary intervention made substantially greater gains in fluency, accuracy, and rate than students in a control group.
The study by Christine Tucker, Ed.D., of Walden University, and Don Jones, Ed.D., of Texas A&M University – Kingsville was published in the National Forum of Educational Administration and Supervision Journal (Volume 28, Number 1) under the title, "Response to Intervention: Increasing Fluency, Rate, and Accuracy for Students at Risk for Reading Failure."
The purpose of the study was to investigate the effect of response to intervention (RTI) by determining the impact of specialized instruction on reading fluency skills with fourth graders who were identified as at risk for reading failure.
The randomized control trial compared two groups of students, half of whom received Read Naturally instruction, 30 minutes a day, 4 days a week, in addition to general reading instruction, and half of whom received only general reading instruction.
Study Results
After 10 weeks, the Read Naturally students demonstrated greater pretest-to-posttest gains in reading accuracy, rate, and fluency than the control group students, as measured by the Gray Oral Reading Test Fourth Edition (GORT-4). All results were statistically significant (p <. 05). The effect size for accuracy was moderate (d = .68), for rate was large (d = 1.12), and for fluency was large (d = 1.03).
The following chart summarizes the average gains for students in the two groups.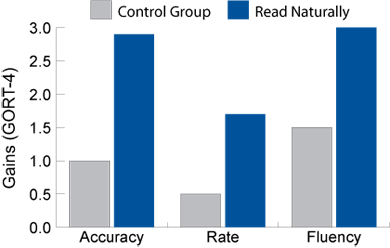 For More Information

Read the full journal article