Treatment Group/Control Group
First-grade students, South Forsyth County, GA
Mesa, C. (2003)
A study in South Forsyth County, GA, by Christy Mesa of Piedmont College showed that first graders using Read Naturally Software Edition improved significantly more than their fellow students who did not use the program.
Read Naturally SE had previously been a successful reading component in the third through fifth grades at the school. As a result, a study was designed to see if this program could be implemented successfully at the first grade level.
The subjects for the study were 12 students in a first grade class at Cumming Elementary School. Six of the students used Read Naturally SE for 45 minutes a day, four days a week. Another six students (the control group) remained in the classroom and continued normal reading activities.
Mesa first established a baseline for the students by using their STAR, Comprehension Reading Test (CRT), and Oral Reading Fluency (ORF) test scores. After three weeks in their respective reading programs, the students were then re-tested using the same tests.
The results indicated that the Read Naturally group increased their fluency and comprehension scores considerably more than the control group, as shown in the tables and graphs below.
Average Scores on Three Reading Tests

Control Group

Read Naturally

STAR Test

Baseline (10/20/03)

.77

.77

Final (11/18/03)

1.02

1.22

Increase

.25

.45

Comprehension Reading Test

Baseline (10/20/03)

3.67

4.33

Final (11/18/03)

4.33

6.00

Increase

.66

1.67

Oral Reading Fluency Test

Baseline (10/20/03)

52.2

55.2

Final (11/18/03)

74.3

83.0

Increase

22.2

27.8
Average Scores on the STAR Test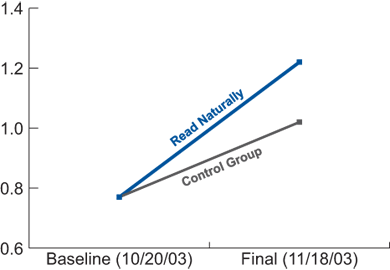 Average Scores on the Comprehension Reading Test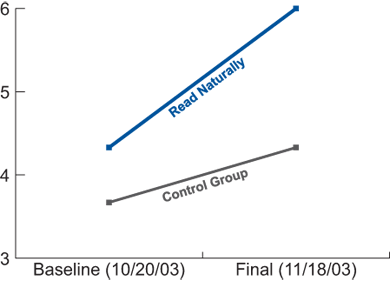 Average Scores on the Oral Reading Fluency Test