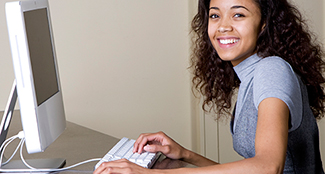 Update: One Minute Reader Live is now included as a component of Read Live. The One Minute Reader iPad App has been discontinued.
Distance learning is a challenging new reality for most of us. You and your students likely need extra support during this time, and Read Naturally is here to help. Many of our solutions can be effectively implemented at home to ensure your students continue to make progress in reading.
Our most popular program, Read Naturally Live, is particularly well suited for distance learning. Current Read Live users are encouraged to follow the instructions listed here in order to get a distance-learning model up and running. Additionally, please view our webinar, "Using Read Live in a Distance Learning Model," (recorded March 25, 2020) for helpful information from our staff on how to optimize success. Both links include detailed information on using remote desktop apps such as Zoom or Google Remote Desktop to interact with your Read Live students.
If your school is not currently using Read Live, consider signing up for a free 60-day trial. Now is a great time to implement this program free of charge and experience the benefits. After signing up, follow the steps below:
1. Set up your account and add students.
2. Place students.
3. Teach students to use the program.
4. For greater student independence, adjust Story Options to allow students to perform the Cold Timing step without a teacher.
5. For the final Pass step and/or ongoing support of the student, use a program like Zoom, Google Remote Desktop, or something similar. At a minimum, applications should allow for screen sharing of teacher and student devices. Remote control of the student's computer by the teacher allows for greater flexibility during Pass activities. For more information, see our Knowledgebase article on this topic.
6. You can also enter parents as Read Live Assistants allowing them to conduct timings, choose remedial actions, and pass stories.
7. Use Read Live reports to monitor student progress and adjust students' levels and goals.
In addition to Read Live, we offer several programs designed for use at home. Students work mostly independently in these programs to build fluency, vocabulary, and comprehension. Most are available for free or little cost. These programs include:
We understand that implementing a new model of learning without much warning is difficult in any case—especially so during required school closures. Read Naturally staff are working remotely to ensure your needs are met, your questions are answered, and your students have the best chance at success. If you have difficulty reaching us by phone, please leave a message and we will return your call, or email us at info@readnaturally.com. Additionally, if you have thoughts to share on what is working well for you as you use our programs remotely, please let us know. We would love to pass your tips and tricks along to other teachers.