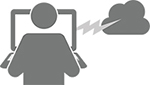 The Read Live update released on November 19, 2020 provides even greater support to educators and students using the program in a distance learning model. Check out the full release notes for more detailed information.
Waiting List Added to Staff Module
A Waiting List page has been added to the Staff Member Module. All users with a role of account administrator, school coordinator, or teacher now have access to this new tile and can see which students are currently waiting for cold and hot timing activities. It allows these users to review the student's Current Story Details report and to Login As the student to conduct Cold Timing or Pass steps.
Learn more about using the Waiting List to help distance learning students.
Hot Timing Recording Feature
A new recording feature for student Story and Word List hot timings has also been added. Students waiting for the Pass step in Read Naturally Live can now record Story and Word List hot timing attempts, to be used by the teacher at a later time to conduct the hot timing.
Learn more about using the hot timing recording feature.
Scoring Recorded Timings
Teachers now have the option to score the timing from the student recording or conduct the timing with the student present.
The Score Recording option allows a teacher to complete the timing asynchronously using the student's recording.
The Start Live Timing option allows teachers to conduct live timings when students are present, even if a recording has been saved.
Learn more about scoring recorded timings.
Watch our Distance Learning Features video to learn how to use the Waiting List page, the Login As tool, and the hot timing recording feature.
Notes: Student recordings can only be accessed when logged into Read Live and are deleted immediately after the relevant Pass steps are completed. iPads and some computer browsers do not currently support the new recording features. An update was also made to the Read Live Privacy and Security Policy with this release.