If you want to get the most from your Read Naturally Live program and earn hours for continuing education credits* in the process, don't miss the chance to attend one of our Read Naturally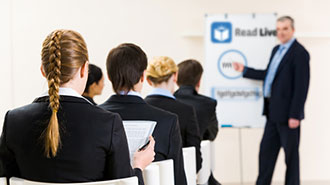 Live Hands-On Training and Strategy Workshops. This training will help you take advantage of Read Naturally Live's many features and ensure the program is working well for all students.
The Read Naturally Live Hands-On Training and Strategy Workshop combines our Read Naturally Strategy training with instructor-led, hands-on software training designed specifically for Read Naturally Live users. Attendees will expand their understanding of the Read Naturally Strategy and receive practical, hands-on experience exploring the powerful functionality of Read Naturally Live.
You will spend the first half of this workshop learning about the Read Naturally Strategy and implementation, including how to determine placement, how to adjust levels and goals, and how to keep students challenged to accelerate their reading achievement.
The second half is the hands-on Read Live portion in which you will be trained in the following:
How to enroll students in Read Live, assign licenses to students, and work efficiently using groups.
How to place students in the appropriate series, level, and goal to begin working in Read Naturally Live.
The steps that students perform as they work through a story.
Remedial tasks to assign when students do not pass a story.
How to customize program options to maximize progress for each student.
How to monitor student progress with reports and make adjustments when necessary.
How to print parent letters and student awards to facilitate communication with students and parents.
As part of the registration fee, all attendees will receive: a copy of the Read Live Hands-on Training Workbook ($49 value), the information and skills necessary to accelerate your students' reading achievement, seminar packets full of research and guidelines, and a certificate of completion indicating six hours of continuing education time.
Note that the Read Naturally Live Hands-On Training and Strategy Workshop is a Bring Your Own Device (BYOD) event. Each participant will need to have his or her own laptop computer. Tablets (iPads, Androids, etc.) are not suitable for this training. Please refer to these requirements to ensure your device will work.
Take your Read Naturally Live program to the next level. Click this link to register for the Hands-on Training and Strategy Workshop online, or click here for information on how to register offline.
As always, if you have questions or concerns we can assist with in the meantime, don't hesitate to get in touch.
*Training hours are accepted by most districts/states. Check with your local accrediting organization to confirm acceptance.