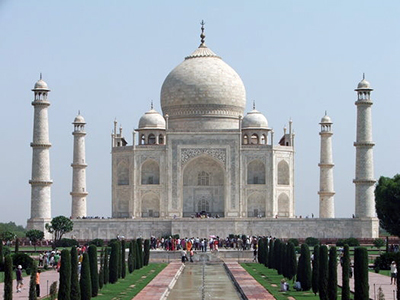 What are some similarities and differences between the Taj Mahal and the Golden Temple? What do Read Naturally programs have in common with the Common Core State Standards? How do these questions relate to each other, and most importantly, how do they relate to free resources for teachers?
The Common Core State Standards (CCSS) specify that students should have the ability to analyze how two or more texts address similar themes or topics. Drawing comparisons in this way helps students build knowledge and think critically about the different approaches of various texts.
In the higher levels of Encore and Read Live (levels 6.0 – 8.0), each story is paired with another story about a related topic. For example, "The Taj Mahal" and "The Golden Temple" are two of the paired stories in level 7.0. Each pair of stories has three comparison questions that students answer using knowledge obtained from both stories. These levels also contain a set of questions about the similarities and differences between non-paired stories. All comparison questions encourage analysis across topics and provide opportunities to make deeper connections—which is the goal of the CCSS requirement.
Comparison questions are available as free downloads from our website. Click on the links to view or download comparison questions and answers for levels 6.0 – 8.0.
Level 6.0 Comparison Questions
Level 7.0 Comparison Questions
Level 8.0 Comparison Questions
The stories in level 5.6 were not written as pairs, but this level also includes comparison questions that encourage the analysis of different topics. Click on the link to view or download comparison questions and answers for level 5.6.
Level 5.6 Comparison Questions
As always, if you have questions or comments about this topic, we'd love to hear from you! And if you're interested in additional ways Read Naturally programs align with the CCSS, be sure to check out the articles below.
Vocabulary Knowledge Rating and Read Naturally
Sherlock Holmes and the Common Core State Standards
Read Naturally Programs Align With Common Core State Standards Recommendations for Lexile® Measures