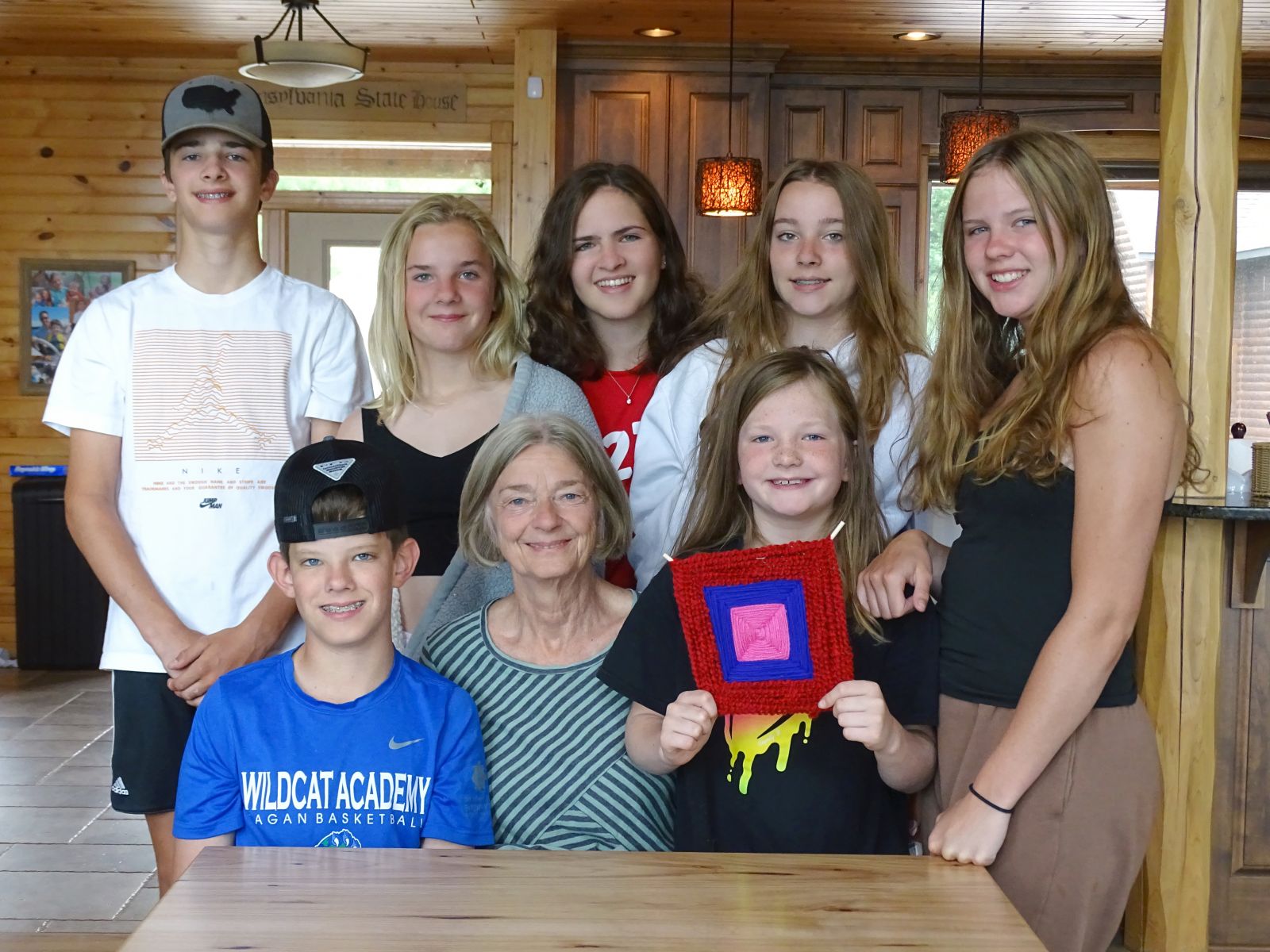 Pictured here with seven of her grandchildren, Read Naturally founder Candyce Ihnot describes her experience tutoring them over the summer.
For me, summer break means a break from the reading lab—but it doesn't mean a break from teaching! I've been blessed with eleven grandchildren, six of whom are still in grade school and live very close to me. It's great to work with them throughout the year on their reading and math, but I love the extra time I get to spend with them in the summer. As with many kids, it can be more difficult to motivate them over the break. Can any of you relate? One of my granddaughters will be taking Spanish for the first time this fall, and I offered to help her prepare over the summer. She groaned and told me, "That's an August problem."
My intention is to encourage my grandchildren to maintain—and even advance—their skills over the summer. I want them to be able to read fluently so that they can learn and understand. I want them to become automatic with their math skills so that they can work more accurately and effortlessly in the future. They've heard me say these things often, and they do understand. Deep down, they want these things, too.
But they also want rewards! Prizes, stickers, outings, and even a little cash can make our effort more fun. While intrinsic motivation is the ultimate key to learning, extrinsic motivators can often be very useful tools to get the ball rolling. Extrinsic motivators tend to be exciting and recognizable and can be especially helpful with young or struggling students.
A few summers back, I was using Read Naturally programs with my grandchildren, and I had agreed to give them each a little bit of money based on the amount of work they were completing. One day, my grandson (who was working on phonics skills with Read Naturally GATE materials) approached me and said, "Just so you know, Grandma, I'm doing this for the moneys, not the letters!" It made me laugh, but it also got me thinking—what other things excite him, and how can I utilize them as motivators?
That grandson is especially interested in sports. Over the years, it has worked well to motivate him by offering a game of catch or a golf game with his grandfather after he completes his work.
One of my granddaughters in particular thrives on one-on-one time. She's also very artistic. I like to reward her with crafts that we can work on together. As an additional benefit, there are often several opportunities for teaching moments during our project sessions. Recently she's taken an interest in beading, which has been fun for me to learn, too!
Competition is also a big motivator in my family. This summer, I'm hosting a Spanish club for my grandkids where we all get together and work in Duolingo. Every time they beat me in the number of points they earn, they get a little reward. The overall winner for the day is rewarded, too. So far, I'm seeing great results from the (mostly friendly) competition and social motivation within the group.
In my years of experience as a teacher, parent, and grandparent, I've picked up plenty of tips and tricks for motivating students and kids. In Read Naturally programs, I like to use story labels, stickers, graphs, and certificates. One of my favorite motivators is to give students progress slips that show the number of stories they've completed within a certain time period, which I wrote about here. A few Read Naturally blog articles on motivation include the following:
Many of my tips and tricks for motivating students come from my own experiences, and many come from my peers. I love hearing stories and advice from other parents and teachers. Do you have any you'd like to share? Leave a comment below!