When students need your attention, they always work calmly and quietly until you're ready for them, right?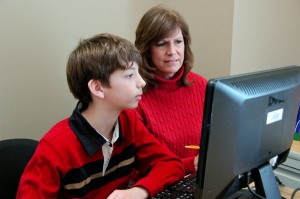 Wouldn't that be wonderful! In reality, many students are impatient for your help. Fortunately, Read Naturally has a few tricks up its sleeve to keep your students engaged as they wait.
When students reach their goal on a Read Naturally story, they should read the story again, answer the comprehension questions, and continue practicing until you're able to pass them. After completing these tasks, students should work on wait-time activities.
Suggestions for wait-time activities include the following:
Students may work on the crossword puzzle that corresponds to the story.
Students may work with the glossary, learning the definitions of the vocabulary words in the story.
Students may read stories previously completed.
Students may read appropriate library books or leveled readers.
Read Live students may play the Wordtastic word game.
Wait-time activities keep your students working quietly and independently as they wait for your assistance. Additionally, they allow students to continue learning vocabulary, interesting facts, and more.
Do you have wait-time activity suggestions? We'd love to hear from you! Leave a note in the comments section below.