Since the original study in 1989, independent researchers across the country have conducted well-designed control group studies using the Read Naturally strategy. These studies validate the effectiveness of the Read Naturally strategy on improving students' fluency. A recent study published in the National Forum of Educational Administration and Supervision Journal (Volume 28, Number 1) is no exception. This study, entitled "Response to Intervention: Increasing Fluency, Rate, and Accuracy for Students at Risk for Reading Failure," conducted by Drs. Christine Tucker and Don Jones, concluded that at-risk students using a Read Naturally intervention made significantly greater gains than at-risk students receiving only general reading instruction.
Tucker and Jones' study consisted of fourth-grade students whose DIBELS Oral Reading Fluency scores placed them in the at-risk category. Half the study participants received only general reading instruction (control group). The other half received general reading instruction in addition to a Read Naturally intervention (experimental group). After a 10-week study period, the study measured students' growth in fluency, rate, and accuracy.
According to the study, "the difference between the experimental group's growth and the control group's growth is significant in all three areas that were examined. Pretest and posttest results indicate that students in the experimental group significantly improved their fluency, rate, and accuracy following the 10-week reading intervention. Although the control group also improved in these areas, the improvement was not considered to be significant."
The following chart summarizes the average gains for students in the two groups.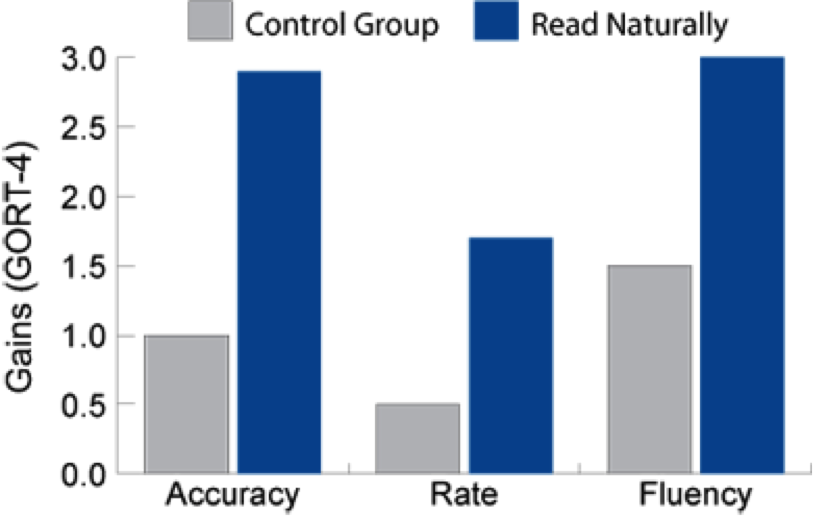 Based on their findings, Tucker and Jones recommend using an RTI model with at-risk readers. Their study demonstrates that the Read Naturally strategy works very well as the intervention. Click here to read the full journal article.
More about RTI and using Read Naturally in an RTI model is available on our Response to Intervention page.
Do you already use Read Naturally in an RTI model? We'd love to hear your experience! Send us an email at info@readnaturally.com, or leave a note in the comments section.