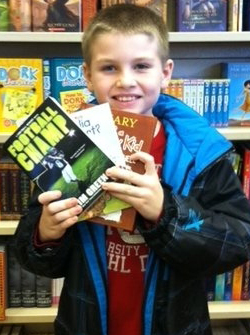 Earlier this month, Seth S. from Dunlap, IL won our Star of the Month drawing. He was so excited to pick out books with his Barnes and Noble gift card.
Thank you to his teacher, Linda Siekmann, for sharing this picture of him and his purchases! And thank you to his mother, Natalie, for sharing this nice note:
One book that he purchased was a biography of Amelia Earhart. I asked that he write a report on the book when he was done, just for practice, because it was cold and we had a lot of spare time this weekend. He said that after he finished the book, he was glad he read it because he didn't know who she was or why she was important. So I asked him why she was important and he said, "Because she inspired women by showing them that they can do the same thing that men do." I was so impressed with the interpretation. In the past, I would just have received small details about the book and not much more.
The Read Naturally Star of the Month program is designed to celebrate students who work hard to improve their reading skills. Each month, we select one student to feature in our newsletter. The selected student will win a $20 Barnes & Noble gift card, and the school or teacher who nominated the student will receive a $200 gift certificate for Read Naturally materials.
If you entered the drawing and your student did not win this month, he or she will remain in the selection pool for future months!
To nominate your deserving student, visit the entry form.