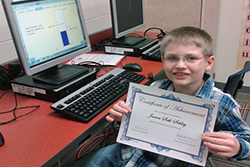 Congratulations to Star Student Seth S. from Dunlap, IL! Seth is a third-grade student at Hickory Grove Elementary School. Seth's teacher, Linda Siekmann, had this to say about him:
Seth is a third-grade student at the newly built Hickory Grove Elementary School in Dunlap, IL. Seth began the year reading 50 words per minute with seven errors. His reading was choppy and he had little to no expression. Seth was also struggling in the area of comprehension, specifically main idea. After just nine weeks of using the Read Naturally program, Seth has raised his average reading fluency score to 94 words per minute with only one error, and he is a joy to listen to! Seth is able to balance reading speed with accuracy and proper expression. He has also raised his average comprehension score to 100%, and he is no longer struggling with discerning main idea from the details. In addition, his retell has gone from an average of 16 words to an average of 27 words. What used to be a chore for Seth is now something he looks forward to doing. He cannot wait to tell me what he remembers from the story. I could nominate Seth based solely on the gains he has made in reading fluency and comprehension, but the main reason I am nominating him is for his work ethic. When Seth comes to intervention block, he is focused and ready to dive in. Seth is now enjoying reading and his success!
The Read Naturally Star of the Month program is designed to celebrate students who work hard to improve their reading skills. Each month, we select one student to feature in our newsletter. The selected student will win a $20 Barnes & Noble gift card, and the school or teacher who nominated the student will receive a $200 gift certificate for Read Naturally materials.
If you entered the drawing and your student did not win this month, he or she will remain in the selection pool for future months!
To nominate your deserving student, visit the entry form.