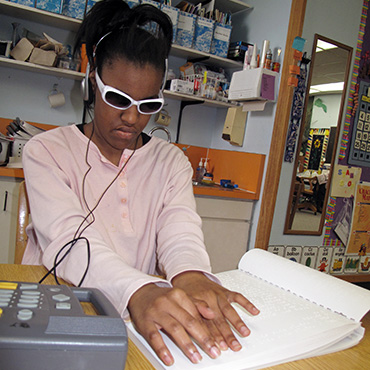 As the need for braille fluency tools has increased, Read Naturally has continued to update its offerings for blind and visually impaired students. We are pleased to now offer these resources free of charge. Teachers using Read Naturally Live or Read Naturally Encore II can simply click here to order these free supplemental resources.
Our braille resources include Unified English Braille (UEB) translations of all Phonics and Sequenced levels through level 4.5, as well as our Placement Packet. These digital files are formatted for embossing on wide braille paper. The content in these levels matches the current content in Encore II and Read Naturally Live.
Since Read Naturally began offering braille resources in 2010, readers of braille have had great success in using these materials to build reading fluency. "Read Naturally is the most effective tool I have found for helping students improve their braille reading fluency," said Jeri Cleveland, former teacher at the Texas School for the Blind and Visually Impaired. "I love the level of autonomy and independence it offers. It is so gratifying to see my students take ownership of their braille and reading skills."
If you know a student who could benefit from these resources, please order here or reach out to customerservice@readnaturally.com.