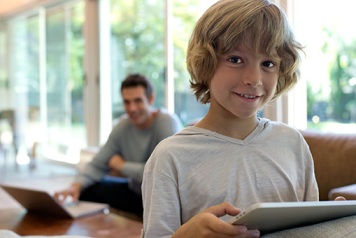 Update: One Minute Reader Live is now included as a component of Read Live. The One Minute Reader iPad App has been discontinued.
To look into the eyes of a young person and see that he or she is struggling is difficult for anyone—but it's especially difficult for the child's parents. Students who struggle with reading often feel frustrated, tired, sad, angry, embarrassed, and a whole host of other emotions. The parents of these students often feel many of these same things. Many want to help their children but don't know where to start. "What if I don't have a background in education?" "What if I don't have enough hours in my day?" "I know nothing about literacy instruction—what if my efforts to help end up confusing the child even more?" "There are so many programs claiming to help struggling readers—how will I choose the best one?" These are just a few of the many questions that can overwhelm a struggling reader's parents. To these parents, our answer is simply: Let us help.
Read Naturally programs have helped countless struggling readers achieve literacy using a groundbreaking strategy that is highly effective, efficient, and enjoyable. Our research- and evidence-based strategy has been the subject of many reputable research studies that confirm its effectiveness. (An inpouring of teacher and student testimonials confirms it too!) All Read Naturally programs were developed by teachers who have worked with thousands of struggling readers and who have done extensive research into literacy and learning.
These teachers are also parents. From the beginning, the educators on the Read Naturally team have understood that offering home access to high-quality tools that help struggling readers will improve outcomes even more. That's why we allow students who use Read Naturally Live (our most popular, web-based program) at school to use the program at home during the summer at no cost.
We have also designed programs specifically for use in the home—some of which we offer for free. These easy-to-use programs are available to anyone, even students who do not use Read Naturally programs at school. Students work independently, relieving parents of the pressure to provide instruction.
Our at-home programs include:
Parents have also implemented our highly successful subscription-based program, Read Naturally Live, at home. This program is typically used in schools. Students work mostly independently, but teacher support is crucial.
Seeing your child struggle is hard enough; not knowing how to help makes it so much worse. The good news is that parents of struggling readers can help their children, and they don't need to be experts in literacy instruction to do so. Just get in touch with us here at Read Naturally, and we'll go from there.