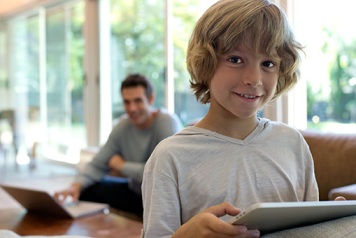 Update: One Minute Reader Live is now included as a component of Read Live. The One Minute Reader iPad App has been discontinued.
For Read Live students who have been making progress each day for the entire school year, a three-month summer break isn't ideal. Best-case scenario: They'll read a lot on their own and continue to make progress. Worst-case scenario: They won't read at all, and they'll lose some valuable gains. The worst-case scenario is, unfortunately, more common.
But of course, it's not going to happen to your students! That's because your students can continue to use Read Live over the summer—at no additional cost, as long as your school already has a subscription. All it takes is a few simple steps to set it up, and your students can access the program from any place with an Internet connection. They'll use the same account they've been using at school, so there is no cost.
For students using Read Live over the summer, their parents (or guardians) will fill your role in conducting Pass Timings. To do so, you'll need to set them up as program helpers. Follow these steps to set parents up as program helpers. (It's important not to share your user ID and password—you'll need to create login credentials specifically for parents)
Program helpers will need training in order to be successful. When they log in, they will see a page with useful information about their role. They should watch the How-To videos that show a student working through a story and provide guidance on what to do if the student does not pass. There are also several resources available in the Knowledgebase section of our website to assist with training.
As helpers, parents will not have the ability to change levels, goals, and story options. Ideally you will log in periodically to check reports and make these adjustments as needed. Your ongoing communication with parents will maximize success.
To determine if this option is feasible for your students, their parents, and you, please read this list of considerations. Then, download and distribute this letter to parents, which explains the Read Live program and the program helper's role. Many students will also benefit from using the home version of One Minute Reader over the summer. You may wish to distribute the One Minute Reader letter and the Read Live letter together.
With all these tools at their disposal, parents should feel well equipped to support their children's fluency development over the summer—and you should feel confident that your students will continue to make the progress needed to hit the ground running next fall.
Don't forget: If questions arise, we're here to help! The Read Naturally office is open during regular business hours all summer long.