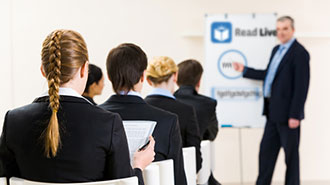 Imagine purchasing a fancy new camera. Its state-of-the art features promise to deliver remarkable results. So you bring the camera home, skim through the manual, and start snapping photos. The photos are great—but you know they could be better. Wouldn't it be great if a professional photographer could give you personalized instruction on all of the camera's features? Instruction that would specifically address your questions, needs, and goals?
Think of Read Live as your new camera. Read Naturally coaches are the professionals who will teach you everything you need to know to get the best possible results. They offer customized support to meet your specific needs.
Read Naturally recommends that all users take advantage of our training materials and services, which include user-friendly manuals and nationwide seminars. But the combination of professional training and technical coaching will maximize results. Coaching takes your Read Live program to the next level, ensuring that your school's needs are being met as well as possible.
Read Live coaching services allow you to work individually with a Read Naturally expert. Training is a prerequisite for coaching. Then, at critical points in your Read Live implementation, your coach will analyze student data and make specific recommendations. Your coach will work with up to two teachers at your site, offering personalized suggestions for modifying instructional strategies to accelerate student progress and/or validating current instructional practice. Written reports and plans, conference calls, and training workbooks are also included with this service.
Learn more about Read Live Coaching!