At Read Naturally, we value educating teachers as much as we value educating students. In order for struggling readers to become fluent readers, teachers must learn the best ways to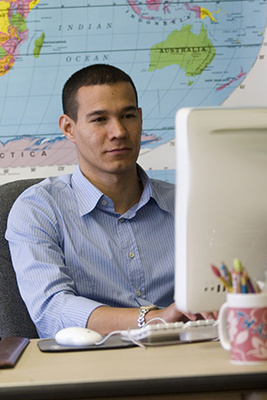 support these students. We believe all teachers should have access to this information, which is why we offer a variety of teacher trainings free of charge.
Our Read Naturally Online Courses are our most comprehensive free training options. Teachers use these courses to learn independently through a self-paced format with the goal of improving outcomes for struggling readers. Read Naturally Online Courses:
Introduce you to concepts designed by Read Naturally program developers.
Engage you in a blend of media-rich learning activities.
Let you access additional reading materials to expand your knowledge.
Allow you to revisit content and video as often as you like.
Assess your understanding of the content through interactive checks for acquired skills and knowledge.
Upon completion of these courses, you will understand the role of fluency in reading development, how to determine who needs reading intervention, and why the research-based Read Naturally Strategy is so effective. Our Online Courses will also teach you how to:
Plan and set up a Read Naturally program.
Place students.
Implement the steps.
Check initial placement.
Keep students challenged by monitoring their progress.
Troubleshoot when a student is not improving.
Read Naturally Online Courses are beneficial if you are looking to advance your professional development, earn continuing education credit, and, most importantly, help your students achieve literacy in an effective, research proven way. Teachers implementing a Read Naturally program for the first time find that these free trainings are an ideal way to set the stage for success.
In addition, we have a library of free Webinars and Webcasts describing our products and how to use them. Our robust How-To Video Library also includes over two dozen videos on various training topics. All of these resources are readily accessible and free of charge.
We are committed to providing quality support to every educator so that the greatest number of students may become fluent readers. If you share our goal of helping all students achieve literacy, please check out our training offerings and get in touch to let us know how we can support you.