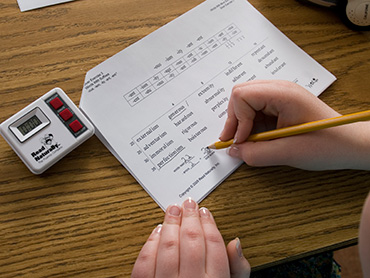 Research tells us that in order to become fluent, students need to learn to decode unknown words accurately and automatically. An understanding of phonics is what makes this possible. Earlier this year, we explained how our QPS diagnostic phonics assessment can quickly and easily alert you to students who need additional phonics support. Last month, we highlighted our popular GATE for phonics program, which is an ideal phonics intervention for small groups of early readers. But what if you're looking for a phonics intervention that students of all ages can use mostly independently?
Word Warm-ups is the solution you're looking for. Word Warm-ups is a research-based intervention that helps students build mastery and automaticity in phonics and decoding. This program features systematic phonics instruction that teaches students to decode and encode one-, two-, and three-syllable words quickly and easily. Audio-supported lessons allow for individualization and enable students to do the exercises independently.
Most phonics programs teach students to decode accurately, but students must develop the ability to read words quickly and effortlessly as well. Word Warm-ups teaches students to use word patterns to decode both accurately and rapidly. Regular work in this program helps students decode and spell increasingly difficult words, improving word recognition and developing fluency.
Teachers love Word Warm-ups because it is easy to implement, highly effective, and customizable based on students' needs. Many students will work on Word Warm-ups exercises for as little as 10 minutes a day as a way to prepare for Read Naturally or another reading activity. In other cases, students may work on the exercises for up to 30 minutes a day as an intervention.
We offer three levels of Word Warm-ups, each of which focuses on different phonics skills. Word Warm-ups 1 teaches phonetically regular one-syllable words; Word Warm-ups 2 teaches phonetically regular two- and three-syllable words; and Word Warm-ups 3 teaches phonetically regular multisyllabic words, including prefixes and suffixes. Some students will start at the beginning of the level and work their way through the lessons; others will receive specific lessons based on their needs.
The links below allow you to view a sample Word Warm-ups lesson or to follow a step-by-step example of the program, including the audio support:
Word Warm-ups also comes with free assessments to place students in the appropriate level and lesson. If you are curious which level will work best for your students, use the following links for screening and placement:
If Word Warm-ups sounds like an ideal phonics solution for your students, place your order today. As always, we'd love to answer your questions and help you find the best solutions for your developing readers. Contact us anytime.