An American Public Media documentary that went viral last year makes the strong argument that better phonics instruction will greatly improve our nation's literacy statistics. According to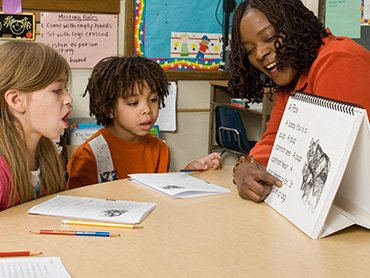 the report, entitled, Hard Words: Why aren't kids being taught to read?:
"[A] big takeaway from decades of scientific research is that, while we use our eyes to read, the starting point for reading is sound. What a child must do to become a reader is to figure out how the words she hears and knows how to say connect to the letters on the page. Writing is a code humans invented to represent speech sounds. Kids have to crack that code to become readers."
In order to crack the code, children need to learn how letters represent speech sounds. In other words, they need to understand phonics.
At the beginning of this school year, we offered detailed instructions and free resources to help you determine which of your students may need extra phonics support. Next, educators must find ways to provide that support using research-based methods that will help students effectively crack the code. That is where Read Naturally GATE comes into play.
Read Naturally GATE accelerates reading achievement by combining the research-proven strategies of teacher modeling, repeated reading, and progress monitoring to teach phonics, develop fluency, and provide support for phonemic awareness, comprehension, and vocabulary. This program is used with small groups of beginning readers to develop proficiency with letter sounds and decoding, leading to fluency and comprehension. Scripted lessons, including phonics-tutoring lessons, are easily taught by teachers or teachers' assistants. GATE uses nonfiction text as required by state standards and keeps students engaged with interesting stories and the motivating Read Naturally Strategy.
GATE teaches phonics explicitly and systematically, in keeping with findings from the National Reading Panel (2000). The National Reading Panel showed that students who received systematic and explicit phonics instruction were better readers at the end of instruction than students who received non-systematic or no phonics instruction (Ehri, 2006; Armbruster, Lehr, and Osborn, 2001). Click here to read more about why systematic phonics instruction is important.
To get a sense of how the GATE program works, check out our free webinar. This webinar walks you through the GATE program steps to show how this direct instruction model leads to mastery of phonics, as well as the other foundational skills of phonemic awareness, high-frequency words, spelling, fluency, and comprehension. You may also download free samples of the GATE program to see some of the lessons students use and the corresponding teacher's script.
If you have identified students who need a phonics intervention and you wish to use a highly effective, research-based program, GATE is an ideal solution. Click here to learn more about the benefits of the program or to place an order.