You've reached that point in September when the school year no longer feels quite so new. Students are settling into routines, patterns are emerging, and everyone is feeling a bit more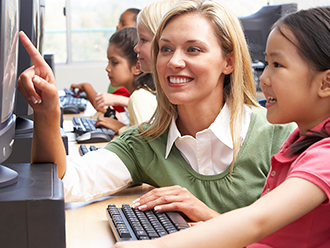 comfortable. By this point, many educators have already identified or are in the process of identifying which students need additional reading support. It's the perfect time of year to familiarize yourself and your students with Read Naturally Live—the most effective online tool to help your students crush their reading goals this year.
We offer several free resources to get your Read Live program up and running quickly. The Read Live Help page includes over a dozen short videos on setting up your account, placing students in the appropriate level, working through stories, and more. The "Orientation to Read Live" video is a great place to begin for new users.
For more in-depth teacher training, we offer free Online Courses for all Read Live users. These interactive, self-paced professional development courses contain all the information, tips, and resources you need to begin or sustain a successful Read Live program. Hundreds of educators have taken advantage of this free option and have given the training a five-star review. The Online Courses have proven helpful for teachers brand new to the program as well as experienced teachers who want to be sure they're maximizing the benefits of Read Live. Plus, the course hours can be used for continuing education credit!
We also offer excellent free training resources for students. Our four-part video series, A Student's Guide to Read Naturally Live, teaches each step of Read Live to students in an engaging and easy-to-follow format. Students combine the videos with hands-on experience to become fully trained in the program. These videos are accessible to everyone—even non-Read Live users. If your school has not yet purchased Read Live, these videos are a great way to see the program in action.
If you intend to use Read Live with your students this school year, we recommend getting started as soon as you can. A recent, well-conducted study of the program confirms its effectiveness and highlights a crucial finding: the more Read Live stories a student completes, the greater his or her fluency gains will be.
We hope our free training resources get your Read Live program off to a smashing start. Please get in touch if you need further assistance. We would love to help you make a purchase or discuss your individual needs.