In many districts and schools, a Read Live Account Administrator works behind the scenes to ensure the program runs smoothly for teachers and students. Who are these helpers, and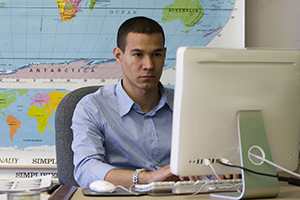 what tasks are they responsible for? In order to have a thorough understanding of how the Read Live program functions, all Read Live users should be familiar with the Account Administrator's important role.
A Read Live account can be created for a district, a school, or an individual teacher. An Account Administrator initially sets up the Read Live account so others can use it. An Account Administrator:
Enters school information.
Enrolls staff members who will be working in the program.
Decides how many Read Live licenses will go to each school.
After the initial account setup, an Account Administrator's role will vary from school to school. In some cases, an Account Administrator will continue setting up the account by enrolling students and assigning them licenses to work in the program. In other cases, an Account Administrator will delegate these duties to school staff members. An Account Administrator should be able to resolve any licensing problems staff members may encounter.
Some Account Administrators will not interact much with Read Live after the initial setup. They will help resolve account-related issues as they arise, and they may get involved at the start of each new school year, when they advance students to the next grade and reassign licenses. Or an Account Administrator may only run reports throughout the year to see student performance in Read Naturally Live or Benchmark Assessor Live.
Other Account Administrators are also teachers who work directly with students and will thus interact with Read Live on a near-daily basis. In addition to managing the Read Live account, these Account Administrators will report on and make educational decisions about the students using the program.
A Read Live account may have more than one Account Administrator. In these cases, a Main Account Administrator needs to be determined. The Main Account Administrator is set using a drop-down menu on the Account Setup page in Read Live. (If your district or school has only one Account Administrator, this person is automatically set as the Main Account Administrator.) All Account Administrators have the same level of access within the program, but the Main Account Administrator is the person who receives Read Live renewal notices and other important communication from Read Naturally. It is essential that this communication is forwarded to all appropriate staff members, especially if the Main Account Administrator for your school or district is not someone who frequently interacts with the Read Live program beyond the initial setup.
This page in the Read Live User Guide outlines all the tasks an Account Administrator can do in the Read Live program. Some of these tasks are exclusive to an Account Administrator, and some can also be performed by school administrators, teachers, and others. For a detailed look at the steps a typical Account Administrator will take to set up Read Live, watch this short video.
If you need help changing your Account Administrator, determining the Main Account Administrator, or if you have any additional questions about the Account Administrator's role, please contact us. We are happy to walk you through any issues that may arise. You may also refer to the easy-to-navigate Read Live User Guide on our website or check out our Knowledgebase for helpful videos, troubleshooting tips, and more.