Nothing makes me happier than when my three kids scamper off to play by themselves. When they're independent and occupied, I actually have a chance to catch my breath. I can only imagine classroom teachers feel the same way—times ten! When your students are engaged in independent work, you get a well-deserved chance to catch up on your own work and prepare for the rest of the day. Maybe, if you're lucky, you can even have a sip of coffee.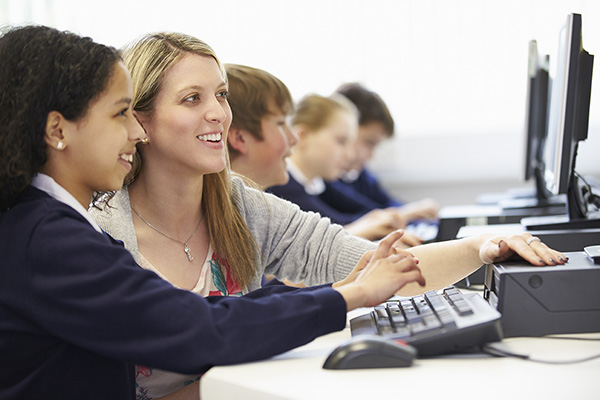 Teachers love Read Naturally Strategy programs, first and foremost, because they are so effective in boosting reading achievement. An added bonus is that students work independently for most of the time. However, Read Naturally Strategy programs are not completely independent. The teacher needs to be present at crucial times in order for the strategy to work. Although it might be nice to let your students progress through the program entirely on their own, this won't result in optimal gains. Teacher interaction is critical to student success.
Because teacher involvement is so important in Read Naturally Strategy programs, many teachers enlist trained helpers. Having a lower teacher-to-student ratio—ideally six students per teacher/helper—tends to make the program run more smoothly.
Specifically, the teacher must be present in Read Naturally Strategy programs during these times:
To properly train students in how to use the program.
To place each student in an appropriate level and set an individual goal.
To assist with the student's first three cold timings and check initial placement.
To pass the student on each story and review progress.
Here are the reasons why the teacher's presence at these times is so crucial:
Well-trained students are more efficient and effective learners. Read Naturally Strategy programs include detailed lesson plans to train students. Click here for the lesson plans for Read Live, and click here for the lesson plans for Read Naturally Encore.
Interactions with students allow the teacher to set expectations. As stated in a recent Read Naturally blog post, "Expectations can create a positive or a negative feedback loop that has a major impact on how students behave and learn."
Individual placement puts each student in a level that challenges but does not frustrate him or her. The teacher also gives each student an individual goal. This system maximizes each student's potential to make gains at an appropriate pace.
Teacher involvement in the cold-timing step for at least the first three stories is crucial for checking initial placement. It also ensures more accurate performance data and teaches students to become self-correcting readers.
Reviewing the fluency and comprehension graphs with the student during the Pass Step is a chance to provide feedback on the student's performance. This is also a good time to recognize progress. For ideas on how to constructively praise a student, read "Good Job!" May Not Be Helpful. Here's Why…"
Reviewing missed quiz questions with the student during the Pass Step is an opportunity to bolster comprehension by training the student to use the text to find the correct answer. If the student has a question type (e.g., main idea) that is consistently problematic, offering instruction as is suggested on the Strategy for Teaching Comprehension document will help the student improve. This is also a good time to teach test-taking skills.
Staying with the student until the Congratulations Page in Read Live is another opportunity to recognize improvement. If the student has exceeded expectations, the teacher can email a copy of this page to the student's parents or classroom teacher.
When your Read Naturally program is up and running, we think you will find that the teacher-supported steps are easy to implement and actually foster student independence in the long run—not just in Read Naturally programs, but in general. Your nudges of support along the way help accelerate your students toward the ultimate goal of confident, independent reading. And when you have a classroom full of independent readers, maybe you actually can enjoy that cup of coffee!