Using Microsoft Teams with Read Live
1331 Views
Microsoft Teams is a collaboration tool that helps groups work together and share information. You can use features like document sharing, chat, video or voice calls, and screen sharing. It can enable teachers and learners to work together in a distance-learning model. In Read Live, students work through many of the program steps on their own. You can use Teams when teachers and students need to collaborate, such as for placement and the Pass step.
WHY MICROSOFT TEAMS?
Your district may already be using Office 365 and this is an available add-on program. Microsoft is also offering schools free access to Teams, even if you don't have a license for Office 365. All you need to get started is a school email address to get started. Teams is a good choice for teacher-student collaboration in Read Live because of its useful features such as:
Video and chat conferencing
Sharing documents and other content
Sharing a screen with another user
Controlling another computer remotely
Teams is compatible with all Read Live platforms, including Windows computers, Mac OS computers, iPads, and Chromebooks.
STEPS FOR USING TEAMS WITH READ LIVE
Perform these steps when you are ready to start using Teams with your Read Live students:
Start a Teams meeting with one or more students.
Establish how students will notify the teacher when they are ready for the cold or pass timing or otherwise need help.
When working with a student:

Ask the student to share the screen. (They may need to be shown how to do this.)
Request control of the student screen.
Perform the timing or provide other supports.
When the timing or pass activities are complete, relinquish control of the screen back to the student.
SHARING A SCREEN
The screen sharing feature allows participants to view another person's screen in a meeting. You must share a screen before you use the remote-control feature. Screen-sharing is useful for placement, Pass activities, and supporting students when they need help.
To share a screen:
Click the Screen Sharing button.
Click the Include system audio check box.
Select the window or application you want to share.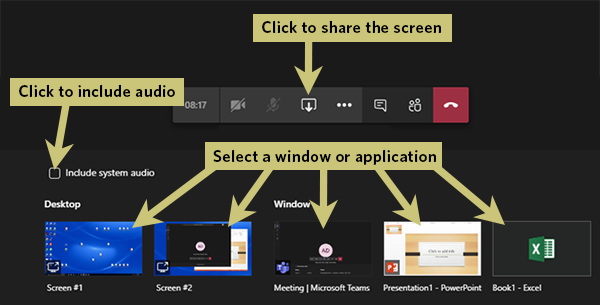 ​
CONTROLLING ANOTHER SCREEN
The remote-control feature allows the teacher to take control of a student's screen in a Teams meeting. Remote control is useful when the teacher conducts the Cold timing and for Pass activities.
Note: If you are unable to access the remote control feature or if it is not working, we recommend logging in as the student and sharing your screen to complete pass activities.


What to do if you are unable to control a student's device
Be sure the student has shared his or her screen before you initiate remote control.
There are two ways to initiate remote control:
The teacher can request remote control by clicking Request Control and then the student needs to click Allow to grant access.

The student can give control to the teacher by clicking Give Control and then choosing the teacher.
​

TIPS FOR USING TEAMS
Review and adjust the settings for screen sharing, remote control, and other features ahead of time.
When sharing a student's screen, be sure to click "Include system audio".
If you need to, you can use Teams to share files such as PDF files of placement passages, stories, or crossword puzzles with students.
You can record a session and review it with the student or share it with parents.
FOR MORE INFORMATION