Technology in the class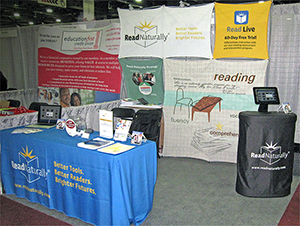 room continues to be a growing trend and is transforming the way students learn. Read Naturally is excited to share how we have transformed many of our programs to better fit the learning style of this new technologically savvy generation of students. We will be presenting and/or exhibiting at the education technology conferences listed below. If you're planning on attending one of these events, please stop by the Read Naturally booth and visit with us. Click here for a full listing of conferences Read Naturally will be attending.
Northwest Council for Computer Education Conference
March 18-20, 2015 in Portland, OR
Computer Using Educators Conference
March 19-21, 2015 in Palm Springs, CA
Tesol International Conference
March 25-28, 2015 in Toronto, ON-Canada
Connect Canada 2015
May 5-8, in Niagra Falls, ON-Canada
Read Naturally looks forward to meeting with the fantastic educators at each event. Stop by our booth in the exhibit hall and check out Read Naturally Live, our Web-based reading intervention program, or any of our great apps. We will also have our new phonemic awareness program, Funēmics, displayed with its interactive iPad widgets.