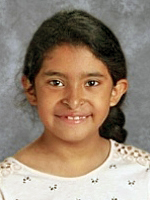 Nathaly G. rounds out the year as our May Star of the Month. She is a third-grader at Hilltop Elementary in Mendham, NJ. Nathaly exceeded all her beginning of the year reading goals. She checked the box in fluency, comprehension, and stamina. Nathaly's teacher, Mrs. Kagan, is very proud of all the progress Nathly made this past year and shared the following with us.
At the beginning of the school year, Nathaly's third grade reading goals were to read fluently, increase reading stamina, and use evidence from the text when responding to questions. In September, she was reading at J/K (F&P level) books. Nathaly's initial placement in Read Naturally was in Series 2.5. Her first cold reading at Level 2.5 was 62 words correct per minute. By the time she read her 12th story, her cold read was 91 words correct per minute. She worked incredibly hard to continue building her fluency using her word attack skills and felt positive about her reading experiences. To strengthen her comprehension skills, Nathaly used a Prove It: Color Coding Strategy when completing the questions for each story. By mid-year, she transitioned to the Read Naturally 3.0 Series. Nathaly continued to grow as she tackled each story. Throughout the school year, Nathaly's progress was monitored closely using the third grade progress monitoring passages. From September to February, Nathaly gained 40 words correct per minute. She also made great progress in her Just Right books and is currently reading P (F&P level) books. Not only did her reading level improve, but so did her ability to read and interpret text across the subject areas. Nathaly is now ready to take on the Read Naturally 3.5 Series. Read Naturally has boosted her confidence in reading throughout the subject areas.
The Read Naturally Star Student of the Month program is designed to celebrate students who work hard to improve their reading skills using Read Naturally's intervention programs. Each month, we select one student to feature in our newsletter. The selected student wins a $50 Barnes & Noble gift card, and the school or teacher who nominated the student receives a $200 gift certificate for Read Naturally materials.
Because most schools are out for the year, this is our last Star of the Month until the next school year. We look forward to reading your entries in the fall!