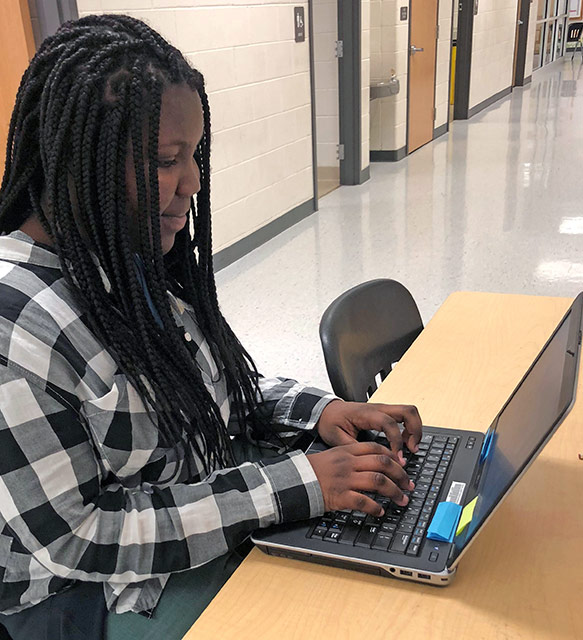 Nathalia A. is our April Star of the Month winner. Nathalia is a sixth-grade student at Lutie Lewis Coates Elementary. She was nominated for the incredible progress she has made in Read Naturally Live and the increased confidence she now has. After two years Nathalia is now reading on grade level, which is an increase of three grade levels. Her teacher Jennette Leiva had shared the following with us about Nathalia's success.
Nathalia is a charismatic and hard-working 12 year old student. She is an English Language Learner and Special Education student. She is African American and speaks Ewe at home. Nathalia has struggled in reading for the past 3 years. Two years ago, Coates Elementary School began ReadLive and we haven't looked back! Nathalia has made vast improvements in reading since beginning ReadLive in February of 2016. She began her 5th grade year at a DRA Reading level 30 which is considered a third grade level. At the end of 5th grade, Nathalia had advanced to DRA Reading level 50. She is now a 6th grader and is reading at a DRA Reading level 60. Her reading level is now considered "on grade level". Nathalia is still using the program daily to continue to further her reading skills. In 4th grade, Nathalia failed the Reading Standards of Learning Assessment (SOL). She passed the Reading SOL in 5th grade and we credit her improvements to Read Naturally Live! Nathalia's expression, retelling, and wcpm have improved since beginning ReadLive. Her confidence has skyrocketed! These improved skills translate to the classroom setting and her teacher has noticed an overall improvement in Nathalia's reading skills. Nathalia was asked about the ReadLive Program and said "It has interesting stories to read. It's challenging but fun. It has helped me with becoming a faster reader and to not track while I read. Every day during reading time after the focus lesson I get on and practice my reading. I think it has made a big difference." We are thrilled that we have had such success with ReadLive.
The Read Naturally Star Student of the Month program is designed to celebrate students who work hard to improve their reading skills using Read Naturally's intervention programs. Each month, we select one student to feature in our newsletter. The selected student wins a $50 Barnes & Noble gift card, and the school or teacher who nominated the student receives a $200 gift certificate for Read Naturally materials.
Because there is no June or July newsletter, this is our last Star of the Month until the next school year. We look forward to reading your entries in the fall!