Imagine that a fourth grader comes home from school raving about a math game he got to play on an iPad at school. He asks his mom if he can continue playing the game at home. The mom finds the free game online, and it seems legit, so she agrees. A little extra math practice can't hurt, right? But when she goes to check on her son a short while later, it's clear he's not using the game to improve his math skills at all. He's solving problems like 2+2. He likes this "math game" because he has figured out how to make it 1% math practice and 99% just a game. (He has also weaseled his way into extra screen time.)
Therein lies the problem with many free "educational" programs. Many are designed to promote learning, but kids don't always use them that way. And many are ostensibly designed to promote learning, but they actually don't. They are not based in research, and they were not created by educators. When teachers give students access to these types of programs at school, are they unknowingly allowing their students to pass the time mindlessly—essentially by playing video games?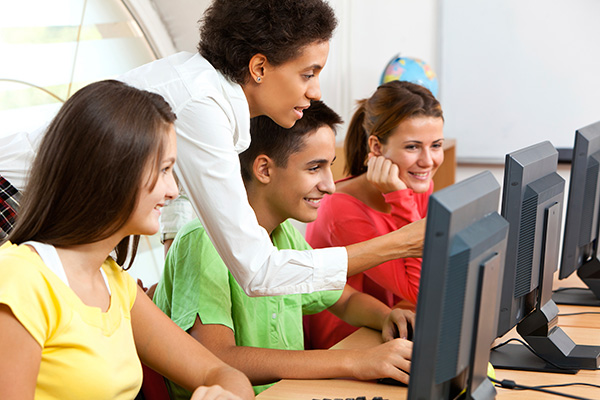 We shouldn't have to wonder. This type of concern is one of several reasons why district-wide implementations of edtech programs are often preferable to a model in which each teacher or school offers something different, often drawing from the abundant pool of free materials on the internet. According to research cited in a recent eSchool News article, "Students and their parents benefit most when all teachers in a district are assessing and reporting on students using a common, approved set of tools and schemes."
When a district invests in a program, it should take a significant amount of time to research the ways in which the program will benefit its teachers and students. Programs implemented at the district level should be held to the highest standards and the highest level of scrutiny, and they shouldn't be implemented unless they pass.
The eSchool News article goes on to list several additional reasons why district-wide implementations are preferable. Summarized from the article, the reasons include:
District-wide implementations let teachers focus on teaching as opposed to finding programs, entering data, answering questions about technology, etc.
Resources are more equitable with district-wide implementations. When programs are adopted at the district level, all students/schools within that district will have the same access to them.
District-wide software is more robust. Software adopted at the district level has generally been thoroughly vetted and is of much higher quality than many of the free programs that will pop up in a quick search.
District-wide programs work with technology that's already in place. For example, IT leaders in the district can ensure that the program integrates with the district's student information system, again saving teachers valuable time in data entry, etc.
District-wide implementations promise longevity. Contracts with high-quality vendors ensure that hard work and data will not be lost. The same cannot be said for free tools, which can easily change or go away at any time.
District-wide implementations minimize legal exposure. Legal concerns connected with digital storage and sharing of information abound in this area. When technology is centrally managed, administrators can ensure the data is being managed responsibly and thus take on much less legal risk.
Read Naturally solutions lend themselves extremely well to district-wide implementations. We love when administrators and educators examine our programs with a high level of scrutiny, because it is then that they discover the careful time and research behind each step and each feature. Our research-based programs were created by educators and are designed to promote learning every step of the way. As such, they do not easily allow "hacks" in which students can mindlessly play around while using them. Our software is robust, well supported, and integrates seamlessly with school systems. We work with administrators, IT leaders, and educators every step of the way to ensure a smooth implementation. And we provide abundant information and research to continue supporting teachers and students throughout their journey. We do all of these things not because we want to claim a larger piece of the edtech pie, but because we care deeply about our mission to improve literacy.
Teachers' and students' time is incredibly valuable, and it should be spent on tools that significantly improve outcomes as opposed to tools that only do a fraction of what they claim. If you are interested in proposing Read Naturally at the district level, note that our grant application materials may help you secure funding. Please also get in touch at any time to let us know how we can best support you.