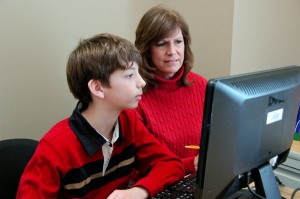 Not long ago, Read Naturally writers could be found crafting new stories about everything from the first cellphone to a harrowing shipwreck survival. Meanwhile, they were updating previously published Read Naturally stories to reflect the most current research. But why stop there?
A cascade of content enhancements followed. Hundreds of new vocabulary terms were defined, and comprehension questions were added to be more consistent with standardized tests. New illustrations, improved audio, Spanish translations, updated manuals, and a fresh design made the content come to life. Teachers were deeply involved every step of the way, ensuring that all content was appropriate for struggling readers and compliant with Common Core State Standards. Finally, in early 2012, Read Naturally released the best version of its flagship product to date—Read Naturally Encore.
Until then, our web-based product, Read Live, had been front and center. But suddenly Encore was all the rage! Could Read Live reclaim the spotlight?
Our developers wasted no time. The next Read Live release was going to include all of the Encore features and more! Our programmers programmed, our testers tested, and our project manager, Lisa Boesen, was one task list away from living at the office. But they made it happen—just in time for your first mouse-click of the 2012–2013 school year.
We think you'll be thrilled with the enhancements of Read Live version 1.3, which include new and improved content, enhanced functionality, updated reports for benchmark assessment, larger story text, and several other updates.
If you're a current Read Live subscriber, simply log in and get started. The changes are integrated into the program at no additional cost.
If you're interested in purchasing Read Live, right now is an ideal time. Our friendly customer service staff is happy to set you up with a completely free 60-day trial. Call 800.788.4085, or email info@readnaturally.com to discuss your needs.