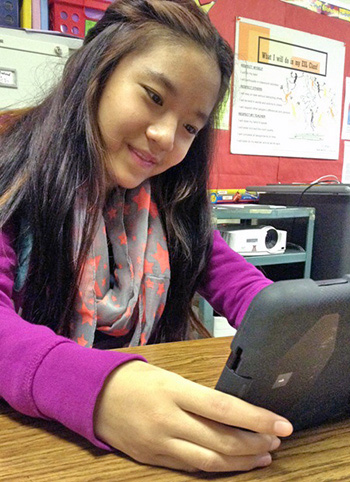 Congratulations to Star Student Zai R. from High Point, NC! Zai is an eighth-grade student at Ferndale Middle School. Zai's teacher, Randall Saenz, had this to say about her:
Zai is an ELL student from Myanmar, whose progress in reading fluency as well as comprehension can only be described as exceptional. Read Naturally seems to have been designed especially for her! The step by step approach comes "naturally" to her. When we started Read Naturally last August, she was reading 95 WCPM at level 4, and now she is reading 132 WCPM at level 7! She is right on track to finish the school year reading on grade level! In addition, her writing skills have also improved dramatically. One thing Zai has learned from Read Naturally is the importance self-assessment, a skill that she has learned to transfer to her writing. With all this said, what I find more outstanding about Zai is how her self-efficacy has improved as a result of her improvement! She is no longer the shy, reluctant-to-read-aloud child she was just a few months ago!
The Read Naturally Star of the Month program is designed to celebrate students who work hard to improve their reading skills. Each month, we select one student to feature in our newsletter. The selected student will win a $20 Barnes & Noble gift card, and the school or teacher who nominated the student will receive a $200 gift certificate for Read Naturally materials.
If you entered the drawing and your student did not win this month, he or she will remain in the selection pool for future months!
To nominate your deserving student, visit the entry form.