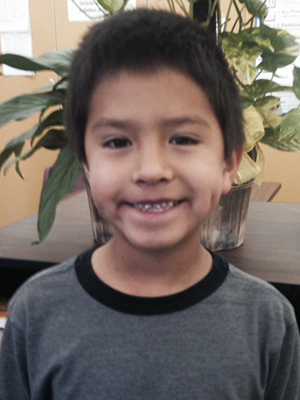 Read Naturally October Star Student of the Month Winner!
Congratulations to Star Student Westin D., a second grade student at Big Pine Elementary in Big Pine, CA! Westin's teacher, Carrol Hambleton, had this to say about him:
Westin has received phonics intervention since the middle of 1st grade. In second grade he began to make a connection in reading decoding and comprehension with the Read Live program. At the beginning of this year, Westin was frustrated because he could not read at the same level as some of his classmates. He has been in the Phonics levels; two weeks ago he was moved to Sequenced level 1. On his first three stories, he passed with five ribbons. He passed all parts of his stories the first try. He is so proud of himself, he is happier in his 2nd grade classroom, and his three certificates hang on the wall for all to see his success. He has the cutest dimples ever, but you only see them when he feels proud of himself. We see lots of dimples these days.
The Read Naturally Star of the Month program is designed to celebrate students who work hard to improve their reading skills. Each month, we select one student to feature in our newsletter. The selected student will win a $50 Barnes & Noble gift card, and the school or teacher who nominated the student will receive a $200 gift certificate for Read Naturally materials.
If you entered the drawing and your student did not win this month, he or she will remain in the selection pool for future months!
To nominate your deserving student, visit the entry form.