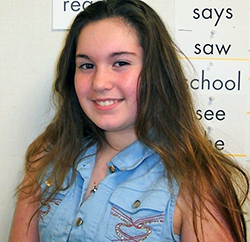 Congratulations to Star Student Saydee P. from Mokelumne Hill, CA! Saydee is a sixth-grade student at Mokelumne Hill Elementary School. Saydee's teacher, Mary Schoenthaler, had this to say about her:
Saydee came to Calaveras Unified School District two years ago in fourth grade and was unable to read. We spent the first year teaching letter sounds, sight words, and decoding. Last year, in a fifth-grade special education class at Mokelumne Hill Elementary, she began the Read Naturally program at Level 2.0, beginning with a fluency of 45 words correct per minute (wcpm). After completing all 24 stories, she averaged 61 wcpm in her cold read and 93 words wcpm for her hot read. She then advanced to Level 2.5, where her cold read averaged 84 wcpm and her hot read at 116 wcpm. Now, one year later, she has advanced to Level 5.0 and has been able to maintain her cold read average at 85 wcpm and her hot reads near 124 wcpm. She has worked hard this past year in the Read Naturally program to advance her reading ability three grade levels and her fluency has improved 40 wcpm. Saydee is trying very hard to improve her reading so that she can reach grade level and mainstream into general education. With the progress she has made over the last year with the Read Naturally program, I have confidence that she will attain her goal.
The Read Naturally Star of the Month program is designed to celebrate students who work hard to improve their reading skills. Each month, we select one student to feature in our newsletter. The selected student will win a $20 Barnes & Noble gift card, and the school or teacher who nominated the student will receive a $200 gift certificate for Read Naturally materials.
If you entered the drawing and your student did not win this month, he or she will remain in the selection pool for future months!
To nominate your deserving student, visit the entry form.