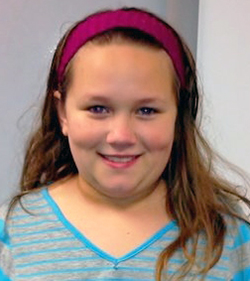 Congratulations to Star Student, Peyton Y., from Allen, TX! Peyton is a fourth-grade student at Evans Elementary School. Peyton's teacher, Jen Parra, had this to say about her:
Peyton is a wonderful young lady! She has been in my Dyslexia Therapy program since she was in second grade. As we are working on our final year of the program, we have made building fluency a major goal. When I first started working with Peyton, she was very shy and would barely speak up in class. As her skills developed, she grew in confidence. This year, I have seen some huge changes for her. She began working with me on the Read Live program in a before-school fluency lab. She arrives at 7:30 a.m. and has faithfully come almost every day since the beginning of the year! As she began to work her way through the stories, the transformation was amazing. She started the year as a hesitant reader, who would whisper when asked to read aloud, was often choppy, and lacked expression. After about a month on the program, I began to notice she was no longer whispering when asked to read aloud, and had even started putting expression into her reading on passages she had never seen before. Her decoding abilities are now almost automatic, and lately, she's been blowing away her goal on her first cold read. She is now a half-year above grade level and reading above the required WPM (words-per-minute) for our state. I am so proud of Peyton, not only for the hard work she puts in every morning with me, but for the engaged and excited reader she is becoming. I'm grateful to Read Live for the resource it has provided me as a teacher to help unlock her potential.
The Read Naturally Star of the Month program is designed to celebrate students who work hard to improve their reading skills. Each month, we select one student to feature in our newsletter. The selected student will win a $20 Barnes & Noble gift card, and the school or teacher who nominated the student will receive a $200 gift certificate for Read Naturally materials.
If you entered the drawing and your student did not win this month, he or she will remain in the selection pool for future months!
To nominate your deserving student, visit the entry form.